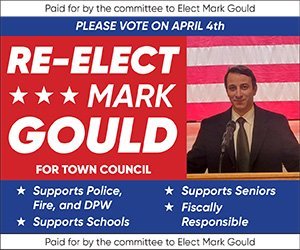 On Saturday, Oct. 2, the North Attleborough Junior Football (NAJF) community gathered together for its 14th annual NAJF Courage Award Ceremony in memory of former coach Keith McClanan. Assembling at midfield prior to the start of a football game at Community Field, players and cheerleaders from NAJF football teams and cheer squads surrounded Brayden Tryon as he was recognized for his inspiring attitude while fighting Acute Lympho Blastic Leukemia.
Keith McClanan's wife Holly and their sons, Noah and Christian along with Noah's wife Meg, were on hand to present Brayden with this year's award, along with NAJF President Paul Rofino and members of NAJF's Board of Directors. Brayden was joined at midfield with his siblings, parents and grandparents.
A day the Tryon family will never forget—Aug. 6, 2020. Their lives were altered forever after a simple phone call from Brayden's grandparents (who he was staying with at the time) saying he wasn't himself and didn't feel well. His dad Pat immediately picked up 8-year-old Brayden and took him to urgent care as Ashley was home with their newborn baby. At urgent care they did some bloodwork and advised Pat to take Brayden to Hasbro immediately, as his white cell count was nearly non-existent. He rushed to Hasbro where it was determined that Brayden had Acute Lympho Blastic Leukemia (A.L.L) So as to not alarm Ashley who had just had a baby, Pat told her they were just waiting on results and would be spending the night at the hospital but to come to the hospital tomorrow morning with some things for Brayden so he could break the news to her.
When Ashley arrived at the hospital she was informed of Brayden's diagnosis and watched as her son was being prepped for surgery to insert a port for chemotherapy which was to begin immediately. He started treatment that day, and for the next year received chemo each week. Those first few months were incredibly trying but somehow Brayden always rallied and always managed a smile. Being in treatment prevented Brayden and his siblings from being able to go to school as Covid was far too much of a risk for all of them. Ashley instead opted to homeschool to keep them safe and in a tight bubble with her, Pat, and Brayden's grandparents for all of 2020. It was tough but they made it work and have grown incredibly close as a family for which they are all truly grateful.
Just over a year later, Brayden has entered phase three of his treatment and is back on the football field playing for Coach Walsh on the grade 2/3 Team and back at school with his friends. He still goes to chemo every Thursday. As his mom put it, "he goes to chemo, then school, home to do homework, and then off to practice he goes. We don't know how he does it but it's so important to him and it makes him so happy that when the doctors cleared him, we had to let him do it." Every nine weeks Brayden has a lumbar puncture which is where he has the chemo inserted through his spine. In true Brayden fashion he doesn't skip a beat. Within a few hours of his last lumbar puncture, he went to the NAHS Game and was named an honorary captain.
As Brayden continues to fight, his friends, family, and community support him unconditionally. You may have noticed the Tryon Strong signs on lawns throughout town. All showing support for a little boy that is incredibly brave. Brayden hopes to continue playing football just like his dad Pat did for the Red Rocketeers and perhaps also be inducted into the Hall of Fame one day just like he was. Brayden and his family look forward to ten years from now when they hear the words "He is cured" In the meantime, Brayden will keep on rolling with it and the smile will not leave his face.
About the award
The NAJF Courage Award was established in 2007 in memory of Keith McClanan. A former assistant football coach for the Red & White Mite team in 2006, McClanan left an incredible impression on those who knew him, particularly when he continued to coach youth sports in North Attleboro while battling cancer over a 2 ½ year period before passing away in January 2007. The award serves not only to remember the special qualities of McClanan, but also to recognize and celebrate the achievements of other individuals within NAJF who show their own strength during a difficult period in their lives. Charmine Duest embodies the true essence of the Keith McClanan Courage Award, and the characteristics Keith was known for.
Past winners of the Courage Award, many of whom were on-hand Saturday night to support Danielle include Noah and Christian McClanan (Keith's sons), Hank Ballard, Jack Blasé, Michele Trimbach, Zoe McMorran, Patrick Fitzgibbons, Charlie Parker, Danielle Ferro, Lisa Deck, The Grover family, Charmine Duest,, Leo Laroque and Leslee Murphy.