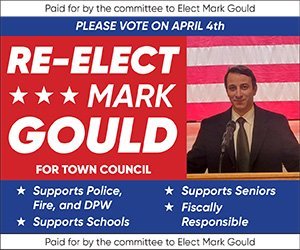 By Max Bowen-max.bowen@northstarrepoter.com
School may be well underway, but the debate over masks in the classroom is far from over.
North Attleborough Schools opened on Aug. 31, and are following a mandate from the Department of Elementary and Secondary Education (DESE) that masks be work by students in all grade levels, along with faculty and visitors. Tied to this is a Covid-19 vaccination rate of 80 percent. If schools can reach this level, the mask mandate will be lifted for those who have received the vaccinations. Since only children 12 and older can get the vaccine, this would not apply to the elementary grades.
At a School Committee meeting on Monday, Sept. 13, several parents spoke both for and against the mandate. Heath Hobson called it "coercion," since it is linked to getting students and faculty vaccinated.
"If you don't see that, you're not looking close enough," said Hobson.
Hobson raised multiple issues, such as what gives the DESE or Board of Health the right to pass such a mandate. The board issued a mandate requiring masks in schools prior to the announcement from DESE. He said the State of Emergency has been lifted, which town officials at the meeting confirmed and there are no other mask mandates in town except for the schools.
"Why bother having a local government if we can't govern ourselves?" he asked. "We told you guys over and over about the detrimental effects of masks. There are definitely more detriments than benefits."
Bob Fitch said that the community has a responsibility to look out for one another. He said the United States was born on the notion of shared sacrifice, a concept that was radical at the time the nation was founded. Fitch wore his mask at the meeting and said he plans to continue until the threat of Covid-19 is fully mitigated.
"Our children are counting on us to get this right," he said. "If even one child succumbs to Covid-19, that is a burden I will carry with me."
Martin School protest
That same day, Gregory St. Lawrence protested for 30 minutes outside Martin Elementary School, where his daughter Talia is a student. He held a sign that read "Compassion, not punishment for Talia and Lindsay." St. Lawrence stood outside the school on the sidewalk.
St. Lawrence said the sign was because his daughter Talia has been disciplined with in-school suspension for not wearing her mask since the school year began. Talia's friend Lindsay has also refused to wear her mask. St. Lawrence's son Gideon has alopecia (hair loss), and the family believes it was caused by having to wear a mask during the previous school year. He said Talia has stopped wearing her mask because she was concerned about the same thing happening to her. Talia now spends her days learning in the conference room, only allowed to leave for lunch and recess.
"So, I think it's inappropriate for the school to decide," he said. "Now to exclude Talia even more from her friends—she's already missed all of third grade, how can you put a price on that?"
In an e-mail sent to the Reporter, School Superintendent John Antonucci said that due to student privacy laws, he cannot comment on individual student disciplinary matters.
"As I have communicated publicly, this is a public health mandate and students and staff will be expected to comply with the mask requirement," he wrote. "As is typical for any school-rule violation, we will follow progressive discipline procedures for any infractions."
St. Lawrence said the family is waiting to speak to a dermatologist to provide documentation on their son's hair loss. He said that isolating his daughter from her friends is harmful, adding that she has missed the activities held on the first days of school as well as art, one of her favorite classes.
"She's sad about it and it's just devastating," said. St. Lawrence. "I think the school is lacking compassion since we have attempted to provide documentation for this and they are taking a real hard punishment stance."