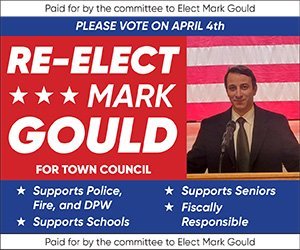 By Max Bowen-max.bowen@northstarreporter.com
Town Councilors cited Town Manager Michael Borg's leadership during the pandemic as going above and beyond during a recent performance review.
The review was discussed during the council's Sept. 8 meeting. The council voted to give Borg a 2 percent cost of living and 2 percent merit increase to his $170,000 salary. The raise will be paid for through the Salary Reserve Account, which currently has $370,000.
Councilor Darius Gregory said definitively to "pay the man," adding that Borg had already turned down a salary adjustment during the pandemic. Borg was sworn in as Town Manager in March 2020, just before the Covid-19 pandemic lead to shutdowns, virtual meetings, and mask mandates.
"His performance exceeds expectations," said Gregory. "Pay the man. We need to retain leadership."
The review covered several areas, including service and support, budget preparation, managerial skills, human resource management, public relations, and goal achievement. Borg was given a score of 0-3 for each category. Town Council President Justin Pare said that the overall score was 2.57, which fell into the 'Exceeds Expectations' category. Human resources was the area that the council said Borg could improve on. Feedback was also provided feedback on 16 of the town manager's goals, which will need to be reviewed or updated.
"I think it's a fitting rating for the performance that you gave," said Pare.
Reading from the performance review, Pare said that councilors commended Borg for decisive and strategic leadership, keeping the community informed, and a transparent budget process.
"It was noted by multiple councilors that Borg made steps to improve operational efficiency, including departmental consolidation," he added.
Borg said it was an "absolute pleasure" working in North Attleborough and alongside the Town Council.
"I'm committed to making the town the place to live in New England," he said. "I will commit myself to making those improvements."