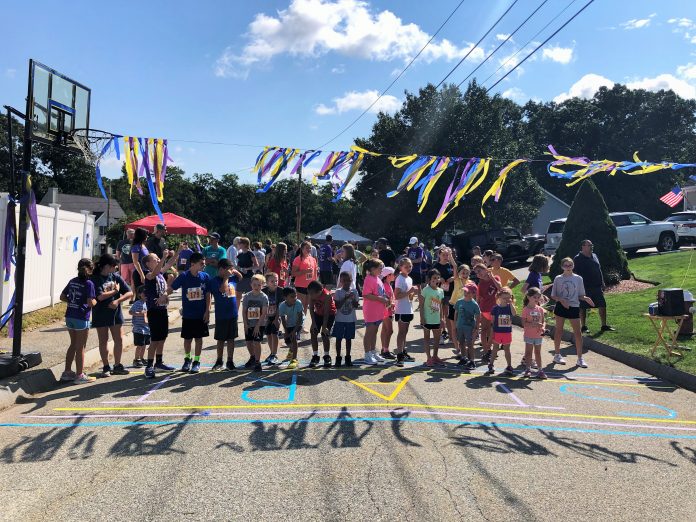 By Max Bowen-max.bowen@northstarreporter.com
In its fifth year, organizers of a brain cancer research fundraiser had set a goal of $3,000—and have been pleasantly surprised to see more than $6,500 donated.
Started by the Bostock sisters of North Attlebrorough, the event got its start from The Cure Starts Now fundraiser in Rhode Island. It is held in honor of Nicole Mackintosh, who passed away from brain cancer on Aug. 30, 2011. Her father John Mackintosh and his wife launched the Massachusetts chapter of The Cure Starts Now—one of 30 nationwide—and have raised thousands through a number of events.
The sisters had wanted to attend the event six years ago, but when circumstances made that a challenge, they decided to do their own 3K with their friends, with money raised going to The Cure Starts Now. The charity walk/run is held on Windsor Drive and brings in around $2,000 annually, but was suspended last year due to Covid.
Jeff Bostock, the girls' father, said around 75 people attended on Sept. 9—similar to recent years—and the atmosphere was a positive one.
"I think people realize that the last year, a lot of these charities suffered and people are making up for lost time," he said, adding that they were happy to see each other after so long.
Juliana Bostock said it was good to have the event return and many had been looking forward to it. She said one goal has been to get the younger children involved, so that when the older ones go off to college the 3K can continue. Sophia Rego is a volunteer for the fundraiser and said they helped people check in or handed out snacks and water.
"They make signs and help hand out stuff," said Juliana of the younger volunteers. "We give them smaller jobs to start and soon they can do the bigger jobs."
Juliana said donations were taken in person and online this year, a first for the fundraiser. They also had Providence businesses Knead Doughnut and Three Sisters sponsor it through donations of food.
"We will try to continue that," she said.
Angelina Bostock said the event was a great time and they are pleased with how much was raised. Planning began three weeks prior, since Covid put such things into question.
"We're happy to raise that amount of money to give to a great cause," she said.