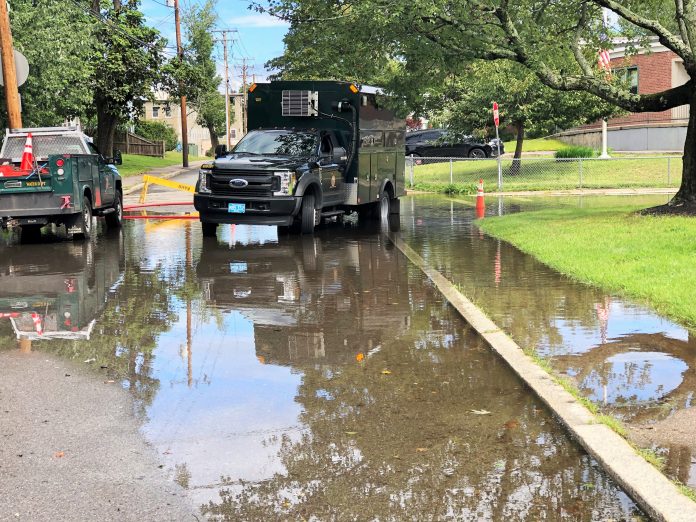 max.bowen@northstarreporter.com
Over four inches of rain fell on the North Attleborough area Wednesday evening and into Thursday, resulting in serious flooding across town.
According to Department of Public Works Director Mark Hollowell, the heaviest rainfall—caused by Hurricane Ida as it struck the New England area—was between 2 and 5 a.m. on Thursday. According to The Weather Channel, rain fell from Virginia to Massachusetts. Nineteen deaths have been reported. New York and New Jersey saw the worst of the flooding, with streets and subways closed down. More than 200,000 power outages in the New England area were reported.
Four areas in North Attleborough saw intense flooding. These included the intersection of Broad and School streets, Jackson Street in front of the Falls School, outside 21 East St.—the site of a 192-unit apartment complex—and Chestnut Street. By 7 a.m. the flooding had been cleared with the exception of School and Broad streets, which crews were still working onThursday. Hollowell said School Street had blockage in the pipes.
"We're pumping water into the street so you can drive through most it," he said.
Hollowell said the DPW had trucks ready before the storm hit, with barricades loaded in case roads had to be closed. Chainsaws were readied, though no downed trees were reported. Survey crews went out in the morning to locate the flooding, and again after the work was done to clear fallen leaves so they wouldn't block storm drains.
"School Street at Broad was the worst flooding we had," said Hollowell. "It was 6-7 inches deep because of the pipe blockage. Water from West Street kept pumping into the area."
Hollowell said that for a short period some roads had to be closed, including East Street from Holbrook Avenue to the entrance of 21 East St., School Street, and Jackson Street from Commonwealth Avenue to Towne Street. At 5 a.m. Hollowell had a conference call with the town manager, fire chief, and facilities manager to ensure buses could safely pick up students for school.