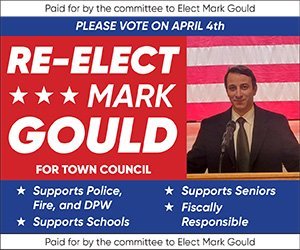 By Max Bowen-max.bowen@northstarreporter.com
At 9 a.m. on the day of the 20th anniversary of the Sept. 11 attacks, the bell will toll for those lost on that tragic day.
The ceremony will take place on Baptist Common on Saturday, Sept. 11, according to Veterans Agent Rebecca Jennings. There will be a posting of the colors, a singing of the National Anthem, followed by the Pledge of Allegiance.
Town Council President Justin Pare and Fire Chief Christopher Coleman will give remarks and members of the Disabled American Veterans and Women's Auxiliary will lay flowers at the town's 9/11 memorial. A poem dedicated to those lost on Sept. 11 will be read and there will be a ringing of the bell for first responders who gave their lives that day. Last year the ceremony couldn't be held due to COVID.
"This is going to be a pretty significant moment in time of remembering those that we lost on 9/11," said Jennings.
Jennings and her husband John were both members of the National Guard when the attacks happened. When the planes hit the towers, Jennings said that she didn't think it was real, that what happened was incomprehensible.
"As soon as the second plane hit the tower I physically felt sick to my stomach," said Jennings. "We called out of work, we stayed glued to our TVs. We weren't sure if we were getting a set of orders to be activated."
Jennings said that their family has always had a military lifestyle and learned that freedom comes with a cost. She said telling her children about what happened was difficult, but they have seen it as a part of their lives.
"We talked to them about what a tragedy it was and that so many lives were lost," said Jennings. "So many folks affected, including so many people who went overseas. Military families need to make sacrifices for the good of the country and for freedom. It's a pretty powerful day for me to remember what I was doing on that day."