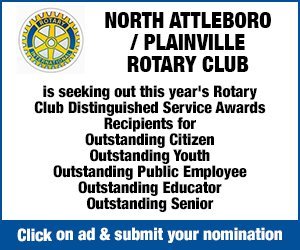 By Max Bowen-max.bowen@northstarreporter.com
It's not just about giving clothes—it's about giving dignity.
It seems the philosophy of the Clothes To Go Clothing Pantry as they sort through donations to find the perfect outfit for those in need. The pantry was started by Linda Jacobson and Joyce Niemi at the Faith Fellowship United Methodist Church in Mansfield, according to Pastor David Arruda. It later moved to the lower level of the United Methodist Church in North Attleborough, sharing space with a food ministry. Arruda used to be the pastor in Mansfield and is still the pastor of the Faith Fellowship United Methodist in North Attleborough.
"We've given out 2.7 million pounds of clothes," said Clothes To Go Director Corlis Moniz. "Everyone volunteers their time, energy, and love."
Those who use the pantry are called 'guests' and can stop by every Saturday from 9-11 a.m. Guests sign in and can take up to 15 minutes to look around, telling the volunteers what they need. A short time later, there's a bag with the person's name on it waiting for them. There are no background checks done.
"We don't judge," said Moniz passionately.
Donations are always welcome, but need to be new, nearly new, or gently used. The pantry also has some corporate donors.
"If you won't wear it, don't donate it," said Moniz.
Clothes are dropped off on Tuesdays and Saturdays, sorted through and sanitized in keeping with COVID guidelines. After that they are brought in, organized, and placed. Signs denote clothing type and size and are clearly marked.
Moniz doesn't view Clothes To Go as a handout, but a hand up. Some of the guests are homeless, while others are "working poor," employed but having difficulty paying the bills. Getting these clothes at no charge allows them to pay rent or bills.
Moniz remembers a guest who needed an outfit for a job interview at Brigham and Women's Hospital. A short time later they came back, needing an outfit to go to an interview for a job that paid better. Once more, the volunteers came through. A friend of Moniz's drives a school bus and keeps an eye out for kids who may need new shoes or clothes. They pick up the bags at the church, then discreetly give them to parents when their kids are dropped off so they won't be ostracized.
"They will have confidence in themselves and feel dignity," she said. "The clothing is a big part in keeping dignity in people."
Pastor Arruda said that there is a difference between charity and ministry, that if people are given something they can become dependent on that. Guests at Clothes To Go are encouraged to "pay it forward" and help where they can. He said that those that get the clothes see their dignity improve as a result. Clothes To Go may provide clothes for a job interview, he said, but also gave the recipient the confidence to go.
"They see they are appreciated and get a deeper understand of God's plan for them," said Pastor Arruda. "It's not just a handout."
Haifa Alameddian is among the people who have used the pantry and now volunteers there. She approached Moniz and offered to clean up or sort clothes—whatever was needed, she wanted to help. Alameddian said the people who volunteer there have made it a wonderful experience.
"I'm so happy," said Alameddian. "I have another family to me."
Many of the guests are from North Attleborough and surrounding communities, but donations from Clothes To Go have been sent throughout the United States and overseas. Moniz said that ministers have a large network and word gets around fast when there is a need. She said Pastor Arruda is often making calls and arrangements to make sure the donations get where they are needed.
"They feel so good, they look so good," said Moniz of the guests.
Like many charities, Clothes To Go was impacted by COVID-19. They were able to remain open as an essential service, and volunteers continue to wear masks today to ensure everyone remains safe. In the early days of the pandemic people were asked to wait outside and provide a list of what they needed. In April when restrictions lifted, the doors were opened and guests were once again welcomed back, with the cheerful volunteers eager to help.
"When someone comes in and they need help, we don't judge," said Moniz. "People have been so respectful and wonderful. They come back because we establish a relationship. People share their lives with us."
For more information on Clothes To Go, call 508-339-6040 or e-mail faithfellowshipUMC@verizon.net.