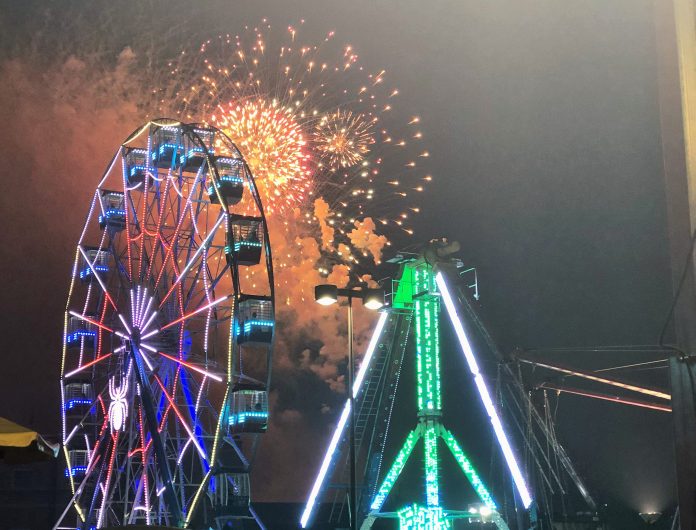 By Max Bowen-max.bowen@northstarteporter.com
After a year away, the sounds of cheering children filled the air during the big return of North Attleborough Firefighters Kid's Day.
Canceled last year due to the COVID-19 pandemic, it was announced in late May that the fundraiser would return for its 40th year. At that time, social media was abuzz as people talked excitedly about the event. That passion followed through as thousands packed the parking lot outside the middle school—where Kid's Day was held—July 22-25. Jessica Place of Attleboro said it felt good to be back and see the children running around as it was before March 2020.
"It felt like it should have been like," said Place. "It's like seeing like the crowds, you know, having fun together, no masks in everybody's faces."
Place said the best part was seeing all the kids having fun. She said it was a little intimidating being amongst the crowds, but it was easy to find a quieter place to enjoy the event.
"It's been really good," she said.
Joe Baldasaro has been going to Kid's Day for years, as far back as when it was called Frontier Day. He remembers going there at the age of 7 and seeing the performance by Allen Gregory—who owned a music store in North Attleborough.
"I envied him," said Baldasaro.
That experience inspired him to learn how to play the guitar and he's gone on to play in bands such as Just In Time and The Landslide. Baldasaro said hearing the news last year that the event would be canceled "ripped my heart out." He added that it was the kids that got the most out of the event.
"Yeah, and the kids are enjoying themselves," he said, gesturing to the field where children ran around and played.
North Attleborough Kid's Day raises between $30,000-$70,000 annually. It's then distributed to families in need, whether that be for medical reasons or a job loss, as an example. Due to the limited planning time, some parts of the fundraiser had to be scaled back. There was only one night of fireworks, instead of the usual two.
The atmosphere was one of excitement as children went on one ride after another, laughing and screaming as they soared through the air. Crowds gathered around the stage set up on the school's field for live music of all kinds, from acoustic folk to pulsing rock vibes. Bands that played included Heavy Vinyl, The Casual Monday's, and Morrissey Blvd. On Saturday, people lined up along the roads to see a parade of fire engines. On Sunday, a Touch-A-Truck was held, and children climbed aboard police and fire vehicles, tractor-trailers, and construction vehicles.
Northeast Championship Wrestling held a three-hour show on Saturday and fans eagerly cheered or booed during the matches. NCW had to go virtual the last year and a half, recording shows without the live audience.
For "Foxy" Calvin Campbell, this was his first show back in front of the crowds. He said the energy had returned and made it a wonderful experience. Campbell said it wasn't difficult to be back in front of the audience, adding that if anything, it made the show that much better.
"It just brings it to another level where like a good match could be a great one, a great match can be a five-star classic," said Campbell in between matches. "Even a bad one can be good."
Robert and Marie Zilch have been regulars at Kid's Day for years and agreed that it was great to see it return in 2021. Marie said it was wonderful to see signs of normality back, a sentiment Robert eagerly echoed.
"I felt bad for the Kid's Day guys, we know a lot of them," said Marie.
Robert and Marie were among the crowds enjoying the live music on Saturday. Robert said it was important for people to take care of each other, and spoke of the many ways that the organization helps those in need.
"We're hoping the next generation grab hold of that and understand what they got to do," he said.