By Max Bowen-max.bowen@northstarreporter.com
Whether it was his zeal on the football field, devotion to helping children, or love of music, Tony Calcia was known throughout North Attleborough.
Family, colleagues, and friends filled the stands at Community Field on June 19 for a memorial service to a man known as "A North Attleborough Legend." Calcia passed away in March 27, 2020, at the age of 64. Due to COVID restrictions at the time, a service such as this was impossible, but with those limitations now lifted, more than 200 people gathered to talk about Calcia's impact on the community.
Dean O'Connor, speaking on behalf of the family, said it was fitting that the service be held at Community Field. Calcia was a volunteer football coach and created highlights films for the teams for decades, and Fridays found him at a football game. During the service many spoke of Calcia's exploits on the field—pumping his fist when the Red Rocketeers made the first down or hugging referees after a game spent arguing with them.
"Tony had a great love for Big Red Football, second only to love for his family," said O'Connor.
With emotion in his voice, O'Connor told the audience—many wearing red—about a time when he was in eighth grade and the middle school basketball team had been de-funded. He remembered Calcia stepping up and offering to run the team, even though, O'Connor said, he didn't know much about coaching the sport.
"But what he didn't know about basketball, he made up with enthusiasm and a love of helping others," said O'Connor. "What followed was a winter of great fun."
Calcia's devotion to volunteering extended far and wide. This included the Park and Recreation Commission, School Committee, Representative Town Meeting, and many more. In 2002, Tony began working at the Hockomock Area YMCA, where he remained 18 years—as vice president and chief operating officer and later as the Vice President of Child Protection and Social Responsibility. In 2004 he created the Integration Initiative, a program that brings together children with special needs and their typically developed peers.
YMCA President Ed Hurley joked that when Calcia first approached him about applying for chief operating officer, he admitted to having no experience. Hurley told him to go for it, "and the rest they say, is history." During his remarks, Hurley announced that in Calcia's memory the YMCA would establish Camp Calcia for older students in the Integration Initiative.
"And Tony used to always say to me, he would thank me for taking a chance and hiring him," said Hurley. "But I always told him, and I say it again today. It was one of the best decisions I ever made in my career, both professionally and personally as well."
Hurley spoke of another great love of Calcia's—travel. At the YMCA conventions in Las Vegas, Hurley remembered walking through a casino and seeing that everyone either knew Calcia or had heard of him. He said it was like walking around with a celebrity. Another time, Calcia and a traveling companion were in China and visited the Great Wall. Hurley said that the traveling companion heard "Hey, Tony!" and sure enough, there was another of Calcia's friends.
"Is there anywhere in the world you can go where you don't know someone like that," said Hurley with laughter.
Derek Folan, a camp counselor at the YMCA, announced the creation of the Tony Calcia Scholarship Fund, which will ensure that anyone who wants to attend the playground program can do so. He gave a special thanks to Tony's mother Barbara for making the first donation. At the close of the service, Barbara said she was the luckiest mother around.
"Tony never wanted any barrier, especially money, to get in the way of a kid's happiness," said Folan.
Like all of the speakers, Folan had his own story about Calcia. His was about a camping trip to the Saco River in New Hampshire. When a massive rainstorm flooded the campground, he said that Calcia took the kids to a five-star hotel in North Conway and made T-shirts that read "I Survived The Flooding." He said Calcia found joy in chaos, and always wanted to do more for the kids. When a trip to Six Flags in New Jersey was being planned, Calcia built on that with a Phillies game and a trip Action Park.
"And he once wrote, never doubt your ability to travel any path or conquer any challenge," said Folan. "And when Tony spoke to you, uou felt like the most important person in the world. He was 100 percent present with you. And he truly cared about your story."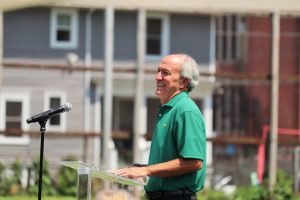 Ray Beaupre—for whom Beaupre Field at the high school is named after—said that Tony loved everyone and everyone loved Tony, a man who packed 200 years of living into 64. He spoke of Calcia's post-game hugs and how everyone got one. Beaupre recalled feeling like he was in a linebacker drill and at any moment, Calcia would blindside him with a hug.
"Tony hugged everybody," said Beaupre.
Beaupre said that the stories about Calcia are endless, from his traditional pizza orders at Rico's following a win, to his love of music and dancing, and many, many more. He said that North Attleborough has a unique treasure in Calcia, and he shuddered to think what would have happened had he wound up in another town. Beaupre spoke fondly of the highlight films that Calcia made over many years. Many were in awe of the film's quality and when asked if Calcia had made more, Beaupre said he accomplished this each and every year.
"Who is this guy—I'd be at a loss for words," said Beaupre. "And I'm going to fall back to a highlight film song and say, he was simply the best. And he was."