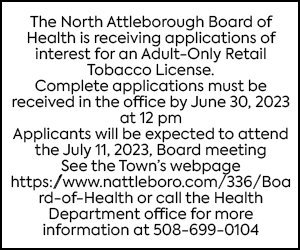 By Max Bowen-max.bowen@northstarreporter.com
North Attleborough's athletics have a lot to be proud of, as many teams have taken home titles.
The varsity wrestling team won the Hockomock League's Davenport Division title after defeating Foxboro, while the boys baseball team won a share of the title after a win over Sharon. In addition, the school's softball team won the title with a 7-4 win over Sharon and the girls track team took home the crown.
Boys baseball coach Michael Hart said that the season had a rough start with the team winning every other game but then picked up steam and wins. During this season, the team would play the same school twice a week, both home and away. He said that pitching was the big focus, and a number of players stepped up in relief roles.
"As the season went on, the relief pitching went on and they were able to finish off games for us," said Hart.
Hart said that the team didn't have a lot of experience, and this was one of the bigger challenges to overcome. He said the team only had two varsity players, with the rest as juniors learning to play on that level. The team lost its last season due to COVID, but a sandlot league for Attleboro-area teams gave many the chance to play during the summer.
The game against Canton was a memorable one for Hart, as the team was in first place at that time. He credited players such as Joe Hartnett, Tyler Bannon, and Jared Penta.
"Every one (game) was a tough one for us," said Hart. "If you're not ready to play and focus you're going to have some tough competition."
Wrestling coach Geoffrey Burgess said it's the goal to be Hockomock champs each year. He said every member made a contribution.
"We know that is a tough goal but we set our sights on it and work hard to try and get there," he said. "I was very proud of the team."
When asked about the biggest challenge for the team, Burgess said it can be difficult to get into "wrestling shape." He said there is nothing like a six-minute varsity match, and conditioning is key. At the same time, they worked on teaching and drilling techniques.
"We sacrificed much of our conditioning time to focus on technique this year," he said. "So many of the guys had to work out on their own outside of practice."
Burgess said that the COVID restrictions were another hurdle, that a six-minute match is hard enough, but wearing a face mask created breathing problems.
"We practiced with them on, we worked on breathing exercises to help, but we would rather have the masks and be able to wrestle than not at all," he said
For the next season, the team will see 11 starters form this season and four or five junior varsity players who Burgess said are good enough to be varsity at other schools.
"We are looking to make a run at league, sectional and maybe even state championship next season," he said.