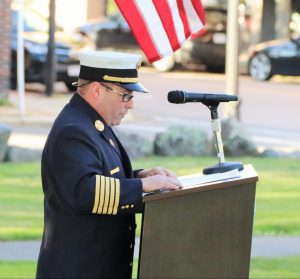 By Max Bowen-max.bowen@northstarreporter.com
Family and friends gathered to applaud and wish the best to the North Attleborough Fire Department's newest officers and firefighters.
At the Town Hall Gazebo, five captains and four lieutenants were officially promoted and 11 firefighters were sworn in to the department. Fire Chief Christoper Coleman said that despite the changes forced by the COVID-19 pandemic, the department continued to be there for the community.
"With all of these changes, the North Attleborough Firefighters came into work every day, adapted, overcame, and conquered the pandemic," said Coleman at the ceremony held on Wednesday, June 16. "We provided exceptional, professional, and high-quality service to the residents."
Coleman welcomed those new to the fire service, saying it is "truly the best job in the world." He encouraged them to ask questions and continue learning, remain vigilant, and train each day.
"Remember, your learning does not stop with this promotion," said Coleman. "You now have a responsibility to all firefighters and their families to remain on top of your game."
Town Manager Michael Borg said that firefighters are a rare type—the 1 out of 100 that runs into a burning building when others run out. He said firefighters have a shared trait of selflessness, always putting others before themselves. Though people today tend to change jobs every few years, Borg said those in the fire department stay on for 20 or 30 years.
"And they do this on a daily basis, the sacrifices that they make, ask the families—they know," said Borg.
When it comes to why they make these sacrifices, Borg said it's likely out of a sense of community and altruism. He spoke to the camaraderie among firefighters, that they can look to their right and left and know the person standing beside them would always have their back.
"But you know, your buddy's going to be there. And you know you're going to be there for your buddy as well," said Borg. "And while the mission comes first, it's always about the people."
For those being promoted to captain or lieutenant, Borg asked them to have a vision for the department, to motivate those they work with to do their best and make a difference. During his time serving in the U.S. Army, he's found that leadership is most effective when it is earned.
"You have to inspire the people around you," said Borg. "It will be through your leadership that growth, development, and innovation will occur. No one's going to hand you the answer. No one's going to do the work for you."
Town Council President Keith Lapointe said that when considering what do say, "thank you" seemed most appropriate, for choosing what might be the most dangerous profession and running in when others run out. He thanked the families for the sacrifices they also make.
"From my own family," said Lapointe. "Thank you for being my son's first heroes."