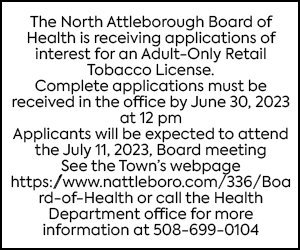 Mandolin is a very inquisitive and mischievous 5-year-old domestic short hair female. She is extremely friendly and loves to be up high. She will climb up you if given the chance. Mandolin snubs her nose at canned cat food but absolutely loves treats and catnip. She is quite a character and full of spunk. Bird watching is one of her favorite pastimes. Mandolin is FIV positive so she must be an only cat or be with other FIV positive felines. She is FeLV negative, spayed, microchipped and up to date with her vaccines.
If you are interested in Madolin or another animal at the North Attleborough Animal Shelter, please call 508-699-0128 or email Fcamara@nattleboro.com.
Even if you are not currently looking to adopt an animal, you can still help the shelter by donating any of the following items: 39-gallon or larger garbage bags, bleach, paper towels and moist cat food pate. Monetary donations in the form of a check or gift card help in the continued care and support of shelter animals. MA redeemable bottles and cans are also accepted.