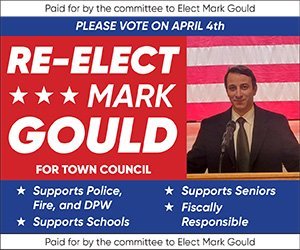 By Max Bowen-max.bowen@northstarreporter.com
After four years, not everyone in the Class of 2021 has found their passions—but there is plenty of time ahead.
It was a message that Valedictorian Mia Antunovic shared with her fellow graduating seniors at the June 5 commencement ceremony for North Attleborough High School. Originally scheduled for June 4, inclement weather forced a delay, but Saturday was clear and warm, with the cheers of family and friends filling Community Field. Antunovic described herself as "painfully shy" in her early years at NAHS, but soon learned that connections with people are how one can truly grow as a person.
"As I slowly developed more confidence, I witnessed my peers doing the same," she said. "I saw many of you find what you're passionate about."
Antunovic said she is proud of what has been accomplished, though some things have yet to be learned—which is what the next chapter is for. As they bring their time as high school students to a close, questions like 'what's next?' 'what will I do from here?' are being asked. It's an uncertain time to be sure—especially in light of the pandemic—but Antunovic reminded the Class of 2021 that COVID-19 does not define them.
"And here we are graduating, finishing strong," said Antunovic. "The fact that we're here today is a great testament to our resilience, and it means that we are especially ready to take on what comes next."
During the ceremony, two students were recognized for their decision to enlist in the Armed Forces. Elvis Young has joined the Air Force, and Harry Bulloch will be in the ROTC in the United States Marine Corp at the University of Maine. Both were presented with commemorative military style challenge coins. NAHS Principal Peter Haviland thanked them for their willingness to serve their country.
"Today, it is our honor and obligation to recognize your classmates, who with the same choices you have, elected to enlist and serve in our nation's military," said Haviland.
The principal talked about the change he has seen in the Class of 2021, how just a short time ago they were young children, entirely dependent on their families. Much has changed, and he said that the students before him have grown into independent and "life-ready individuals." He asked them to take a moment and thank those that helped and supported them over the years, which they did with loud cheers and enthusiastic applause.
"Everyone here has been there for you every step of the way, and they deserve your thanks," said Haviland.
Salutatorian Shruti Srinivasan said that her mother has a saying—you are nothing without the people around you, for what you know is a drop of water and the world's knowledge is the ocean.
In her early years, Srinivasan saw every piece of information as another drop to add, but as she grew older, she realized that it's the influence of friends and mentors that truly help one to grow. Srinivasan counted the many sacrifices made by her family for the sake of her education.
"Without them, I would not have the opportunities I have today or this community that has given so much to me," she said.
During their time at the North Attleborough schools, Srinivasan said the class has had the chance to speak their minds, whether at town meetings or on social media, to draw attention to the important issues.
"We cannot forget the impact that this town has had on us," said Srinivasan. "North Attleborough has given us friends, classmates, teammates, mentors, and neighbors."
Class President Angela Oliynyk said that next year the Class of 2021 would be moving on in many different directions. From their first day at NAHS, they adjusted to the normal routine, when all that changed in 2020. But they did not let the pandemic hold them back—instead, they moved ahead and accomplished much.
"When we remember the last few years, it will be so easy to remember the hard part and the obstacles that almost caught our journey short," she said.
Oliynyk encouraged her fellow graduates to remember the good times, and though COVID forced a change, they were able to hold traditional events like the prom and launch entirely new ones. She said the school is full of innovative leaders, talented athletes, artists, and much more, and a mark has been made from their time at NAHS.
"The pandemic has only amplified our determination over the last few years," she said. "So we lit a fire within ourselves and walked into uncharted territory."