By Max Bowen-max.bowen@northstarreporter.com
On any given day, people are usually quite busy—busy going to work, paying bills, raising their families.
But Memorial Day is jut one on the calendar, and it shouldn't be too hard to pause our own lives for 24 hours to reflect on the men and women that gave theirs.
It was a sentiment offered by Steve Travers, a retired Army Command Sergeant and keynote speaker for North Attleborough's Memorial Day ceremony. Held on Saturday, May 29, the ceremony saw a return to traditional celebrations that COVID-19 temporarily halted. An unexpected rainstorm led to a truncated event, with speakers and a laying of the wreath at Barrows Memorial Park.
During his remarks, Travers spoke of the 77 flags planted outside United Methodist Church, one for every North Attleborough resident who gave their lives in service to the country. He talked of U.S. Marine Capt. Kyle Rolf Van De Giesen, a North Attleborough resident who was killed in a helicopter crash on Oct. 26, 2009, one name out of 77 that is listed on memorials throughout town.
"Seventy six other fathers, sons, husbands and friends who would love to have a burger and potato salad," said Travers. "Never forget."
Travers said that Memorial Day weekend usually marks the end of the cold weather and is celebrated with barbecues and travel. However, he encouraged those in attendance to take time and thank those that fought for the right and freedom to go on vacations or gather with family and friends.
"But you know there's only one day on the calendar to stop and reflect," said Travers. "One day out of 365 and you shouldn't be too busy to say, one Monday, out of 52, to lay flowers on a special green and honor a sacrifice most can barely imagine."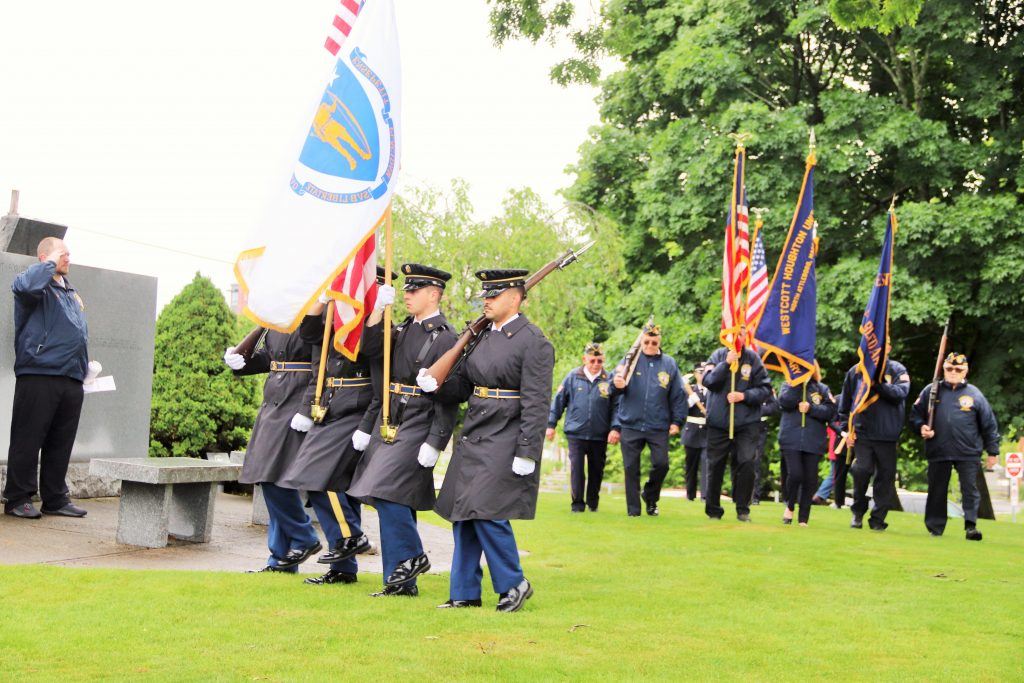 The ceremony recognized Caster Salemi, drafted into the U.S. Army in January 1943. He joined the newly organized 251st Field Army Battalion and was part of the invasion of the Philippines. His battalion was in continuous combat with a loss of 10 percent before Japan surrendered. Salemi was honorably discharged in February 1946 and earned the Good Conduct Medal, American Campaign Medal, Asaitic-Pacific Campaign Medal, WWII Victory Medal, Philippine Liberation Ribbon, and New York State Medal for Merit.
Salemi lives with his daughter in North Attleborough, and active in veterans affairs as a member of the Advisory Board of Veterans Services, past Commander DAV, a member of the American Legion, and board member of the Friends of North Attleborough's Veterans.
During the ceremony, Salemi, Town Manager Michael Borg, and Town Council President Keith Lapointe laid a wreath at Barrows Park.
State Rep. Adam Scanlon said that freedom is the pillar on which the country was built—freedom of speech, expression, to practice religion, and many more. But he said that those freedoms came with a cost, and that those in the Armed Forces have paid that price so the nation can truly be free.
"General Douglas MacArthur said that no man is entitled to the blessings of freedom, unless he be vigilant in its preservation," said Scanlon. "There are veterans before us, their families, our fallen heroes. No one has been more vigilant in the preservation of freedom than them."
Lapointe said that it is the nation's commitment to liberty that makes it great. He said that when celebrating the flag, people should remember that is is a symbol many died for.
"Let us remember that they gave their last breath, so that we may remain free forever," he said. "And I ask you, reflect the silence. It is in that quiet moment that we truly honor their sentence."
Retired Staff Sergeant and Purple Heart Recipient Heath Hobson was the final speaker and said that it's a service member's sense of duty and honor that makes them willing to give their all, and that people need to be willing to do the same in order to protect this place called home.
"Today we remember those who selfless service cost them everything," said Hobson. "We honor them, we thank them and we promise to never forget them."