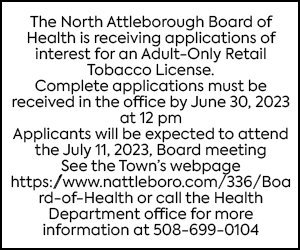 By Max Bowen-max.bowen@northstarreporter.com
In 1998, Richard McQuade began his career with the North Attleborough Police Department as a dispatcher.
In 2021, the lieutenant detective will become its next chief of police.
McQuade, a lifelong North Attleborough resident, was chosen from a pool of 24 applicants, said Town Manager Michael Borg at a recent Town Council meeting. It was a year ago when current Chief John Reilly told Borg that he intended to retire in June. The town manager said the first thing to decide was how wide to cast the net in the search for his successor.
"We would seek internal and external candidates," said Borg at the hybrid meeting on May 10. "That was critical to the process to find the best candidate."
Borg said there were five internal candidates and 19 external, some from as far out as Texas and Colorado. He chose McQuade due to his professionalism, intelligence, and years of experience. He added that the lieutenant detective is an active listener, a good communicator, and honest.
"I saw that he was open-minded and has compassion and empathy," said Borg. "He's open and transparent and knows the best way to solve problems is to shine a light on it."
After a year as a dispatcher, McQuade became a full-time patrolman in 1999. He remained in this role for 15 years, also working with court prosecutions. He was assigned to the detective division in 2015, and made lieutenant detective in 2019.
When asked about complaints against officers, McQuade said it was hard to predict how often it could happen. He added that helping the department continue to receive accreditation is important to him.
"We need to hold police officers accountable," he said. "If accountability is coming, if you're not on board, it will happen."
Among the recent changes to the department is the appointment of Officer Kristine Crosman to School Resource Officer, a position she still holds. McQuade said this has been a benefit to the community and sees no reason to change it.
"She has great contact with the students," he said.
Council President Keith Lapointe said his concern was with the department's morale, that now is a challenging time to be a police officer. He asked McQuade how this could impact recruitment of new officers and retention of those already with the department. McQuade said that he supports any employee of the department that comes to him with a problem.
Last summer the town saw two rallies to support Black Lives Matter, organized in part by Jocelyn Jackson and Hannah Demarco, both NAHS students. McQuade also assisted with the events and said it was important for the organizers to know that the NAPD supported them.
"That day I felt a sense of community pride, without a doubt," he said. "We wanted to make sure their voices are heard."