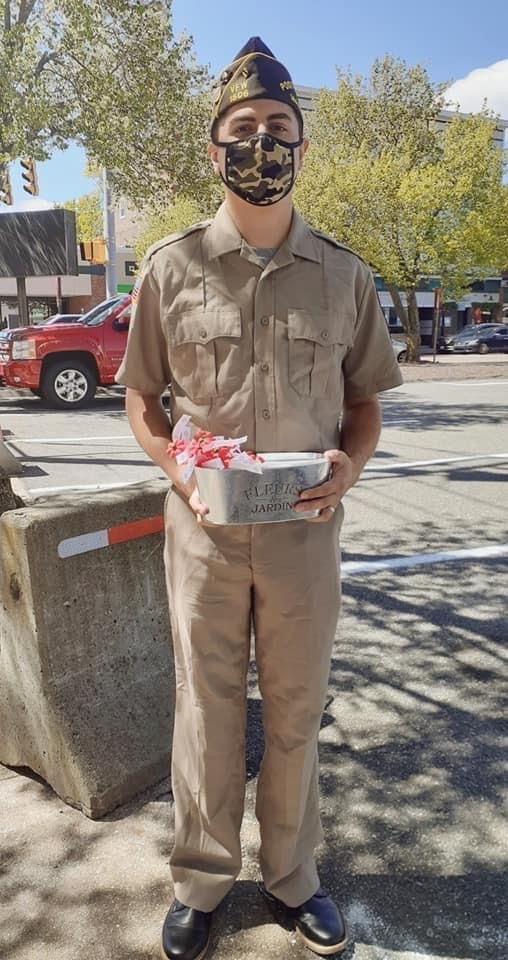 By Max Bowen-max.bowen@northstarreporter.com
Last year saw much lost to the COVID-19 pandemic, and this was very true for the town's veterans.
Due to the risk of spreading the virus, the annual Poppy Sale held by the veterans organizations across the country was canceled. In pre-COVID times, members would stand outside grocery stores and other businesses, offering the flowers in return for a donation of any amount. The money raised is used to benefit veterans in need.
Erik Rivera, commander of North Attleborough's VFW Post 443 had hoped that with infection numbers decreasing and vaccinations available, the fundraiser could return. However, he learned that business owners were wary of people standing outside.
But knowing of the needs that veterans have, he decided to find a solution. He asked the town for a permit to hold the Poppy Sale at a new location, and on May 1, stood at the corner of Elm and N. Washington streets in full uniform, handing out the poppies in Styrofoam pots that his wife made. In just one day, he raised $145. He'll be at the same location this Saturday and on Saturday, May 29, at 11 a.m.
"I was very surprised," said Rivera. "I even brought it (the money) back to the post and they love it. We usually run it a couple times at the Stop and Shop and get that in a week. It raised spirits."
This year, May 28 is National Poppy Day. The red poppy is a nationally recognized symbol of sacrifice worn by Americans since World War I to honor those who served and died for the country in all wars. It reminds Americans of the sacrifices made by veterans.
A part of the regular VFW meetings is called Members in Distress, and allows the group to suggest a veteran to receive a donation from the Poppy Sale. For example, a veteran may be in danger of having their electrical service cut off. They Post could vote to pay the bill from the sale's proceeds.
"Some vets have a hard time," said Rivera. "Anything and everything we can do to help each other in any aspect, we do it."
Rivera said that due to the pandemic, any and all fundraisers had to be suspended, which nearly crippled the post. On three separate occasions, he had conversations about closing it due to lack of funds. But thanks to a generous donor, the doors remain open, and plans for future fundraisers are taking shape.
"In order to to this (helping veterans) we need a sustainable relief fund," he said. "It gives us the life back to get out and support the community."
On June 12, a pig roast/BBQ/meat raffle will be held at the post, located at 50 Jefferson Ave. Tickets are $20 and cover food and an entry into the meat raffle. Kids through the 12th grade eat for free. The event includes live music and begins at 1 p.m. Rivera said his neighbor came to him with the idea, and all proceeds will benefit veterans.
"With recent events, we've been emotionally compromised," said Rivera. "Getting calls from people that want to help the VFW—going from literally a month ago thinking we weren't going to succeed—the faith is being injected into us. That was amazing."
Rivera has been a member of VFW Post 443 for the last three years, as a quartermaster and now the commander. He was also quartermaster of the Norman Prince Post 1506 in Melrose. An Army veteran who served from 2008-2012 in Iraq and Afghanistan, Rivera said he had a difficult time getting back to civilian life. At one point, he was homeless for a year, and said he was in denial of having Post Traumatic Stress Disorder.
On April 15, 2013, Rivera was in Logan Airport, having moved back to Massachusetts from Texas. It was the day of the Boston Marathon Bombing, and the airport quickly went into lockdown.
"It's when I realized that I had a problem," said Rivera.
The Veterans Association helped Rivera get his life together, and even found him an apartment in Melrose. One day, the Norman Prince Post Commander knocked on his door, and Rivera decided to join.
"I became a big part of the post," he said. "They made me quartermaster after a year. It was an amazing experience."
Rivera hopes to encourage younger service members to join the VFW or other veterans organizations. He said it can be hard for them, either not wanting to be part of a group, or because they view it as something for an older generation. But Rivera said that when PTSD brought him down, it was the VFW that brought meaningfulness back into his life.
"I'm very passionate about my story and other vets," he said. "Lots of vets go through this, it's why all these things matter. That's why we're here."