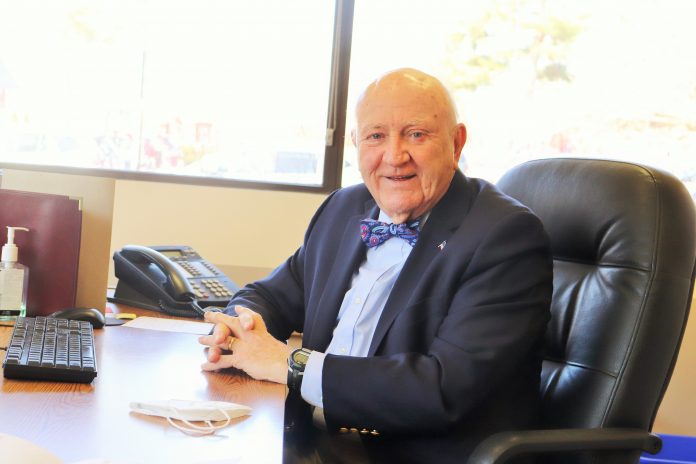 By Max Bowen-max.bowen@northstarreporter.com
It all began over a cup of coffee at the Balfour Company cafeteria.
It was there that Kevin Poirier was encouraged by a friend to accept an appointment for a seat on the School Committee after John Hebden left to take a teaching job in Connecticut. Poirier went on to run for and win two additional terms, serving seven and a half years in total.
Poirier has also served on the Elections Commission for 16 years, and is well-known for 23 years as the state representative for Bristol County's 14th district, a position later held by his wife Betty for nearly as long. He's spent 20 years as a Little League manager and 15 years on the Saint Mary's Sacred Heart School Board. He has also been a member of the Knights of Columbus, American Legion, and many more organizations.
With six years as the Town Clerk, Poirier has been serving North Attleborough for 51 years, but eventually, even the best of things must come to a close. He recently sent a letter to Town Manager Michael Borg announcing that when his term expires on April 3, he would not seek re-appointment. Betty is also retired, having decided not to run for another term last spring. He said the two are eager to do some traveling, though they'd be waiting until the pandemic ends.
"We've had a great career," he said of himself and Betty. "You know when it's your time."
When Poirier stepped down as state representative, that was supposed to be the final chapter of his time in government. He took a job at Sturdy Memorial Hospital as director of employment, stepping down after 15 years. However, retirement didn't quite go as planned, and when his friend Max Gould—the outgoing Town Clerk at the time—recommended he run for the position, he found it a great experience.
"He thought I'd like it," said Poirier. "The common theme is the people—you need to be a people person."
As Town Clerk, Poirier has a litany of responsibilities, including processing dog licenses, filing records of birth, death, and marriage, and presiding as a Justice of the Peace. Poirier said he wanted his office to be the "face of Town Hall," with a door that is always open. On the door is a sign that reads "Pleas Enter."
Two years ago the office went digital, allowing people to register their dog licenses and records online, something which a lot of people took advantage of during the pandemic. Poirier said there has been an uptick in marriage licenses as people have held off on weddings last year, though these days they are small backyard ceremonies.
"The number of people using that service (online records) was high with COVID," said Poirier. "I liked the idea of people coming in, but this is more convenient."
Poirier said it will be up to Borg to decide the next Town Clerk, a position that was an elected one until the new Town Charter took effect, and is now appointed. He has recommended Patricia McNielly for the job, saying that she has been in the office 28 years and knows the job very well. Poirier also spoke highly of Patricia Boyland, who also works with him.
"Pat and Pat have been here doing a great job and doing it with a smile on their face," he said. "I'm lucky to have such a good staff."