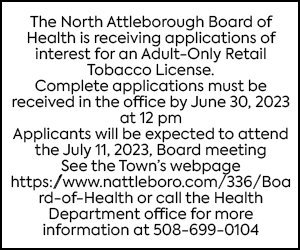 By Max Bowen-max.bowen@northstarreporter.com
In North Attleborough, one of the surest signs of spring is seeing people beautifying the community for the annual Great American Cleanup.
It's a hallmark of the season that was absent last year, when the pandemic forced such a large event to cancel for the good of the public health.
In its place were several smaller cleanups where people were encouraged to beautify their own neighborhoods. While successful, Executive Director Marsha Goldstein of Keep North Attleborough Beautiful, which runs the cleanup, said that litter has been accumulating over the past year. She said there was no hesitation in deciding whether to hold the cleanup, though it couldn't be like normal.
"By eliminating the large group gathering we would make it more appealing and safe," said Goldstein. "We're doing the best we can to keep people safe."
Goldstein credited Town Manager Michael Borg for his help and support of the event. When she first contacted him about holding the cleanup, she said he asked how he could help make it happen. She added that Michele Bernier of the Solid Waste Department has assured her that any trash collected will be picked up by the DPW and Solid Waste.
"He (Borg) was wholeheartedly for it," said Goldstein.
Though COVID-19 cases have seen a sharp drop, there will be some changes required for the cleanup. Registration will be online and pickup of supplies will be done in a curbside format. Distribution of supplies will be at Martin School on April 22 and 29, 5-7 p.m. Cars will drive up to the main entrance and KNAB volunteers will bring out tote bags of supplies, including bags and gloves. To minimize close contact, drivers must place a sign in their windshield stating their first and last name.
In addition, there will be no set-up at the high school as in the past, no walk-in registrations, and no pizza party after the event. Online registration begins on March 1 and will close on March 26, due to the uncertainty of T-shirt vendor inventories. Goldstein said this is the first time a registration deadline has been imposed, and she apologizes for this.
The 2019 cleanup saw more than 650 volunteers work areas such as Elm Street, Fales Road, Cumberland Avenue, and Chestnut Street.
"There's still plenty of litter out there," said Goldstein. "Some scattered, some dense, but it's still out there."
Detailed instructions and safety suggestions can be found on keepnabeautiful.com.