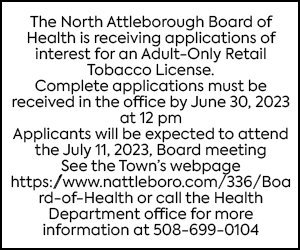 By Max Bowen-max.bowen@northstarrepoter.com
After 31 years, 5 months, and 14 days, Capt. Joe DiRenzo has formally stepped down from the North Attleborough Police Department.
DiRenzo's last official day is Jan. 31, and his final day in the office fell on the Friday before. Speaking on Thursday, he said that the reality of this change has hit home with all the calls, texts, and e-mails from friends and fellow officers.
"I will miss the officers, the chiefs and the supervisors," he said. "We come in each morning, grab a coffee, and talk about what happened the night or day before."
DiRenzo began with the department in 1989, and recalls the early days working out of the old station on Mason Avenue, which he joked was about the size of the garages of the current one on S. Washington Street. Naturally, a lot has changed with policing over the last three decades, and DiRenzo said the more extensive training was among the most prominent, along with the officers' abilities. He said that responding to calls involving people with mental illness is part of the newer training. Helping those suffering from addiction—instead of locking them up—is another change to police work.
"When I was younger, those addicted to drugs, it was arrest, court, jail—just this revolving door," he said. "We focus more on getting them help and not charging them."
DiRenzo said that Police Chief John Reilly has been a big part of this, meeting regularly with those suffering from addiction and their families.
"That's really good and in the long run is going to be helpful," he said.
DiRenzo added that training to de-escalate situations without the use of force is a more recent addition to the training, and he's seeing it used often.
"I think that's the biggest change," said DiRenzo.
A send-off from North Attleborough
At the Jan. 25 virtual Town Council meeting, members of town government and various law enforcement departments joined to wish the captain a happy retirement. Reilly described him as one of the best, an officer dedicated to researching a problem tirelessly before arriving at a solution. The two began their careers in the 1980s, and Reilly said he has a lot of great memories.
"I've literally been laughing for 32 years and I'm going to miss that," said Reilly.
Reilly said that the captain has dealt with a number of difficult calls, most recently for an armed bank robber, whom he was able to locate, disarm, and place under arrest. He has also worked on several homicide cases and helped the department get its accreditation.
"As a leader in the department, you've left this place far better than you found it," said Reilly.
Town Counciler Michael Lennox said that as a newly-elected selectman, he would go to the station to meet with the chief and always saw the captain. He said that their talks helped him grow as a town leader, and he credited DiRenzo for always making sure the team was recognized.
"It's the true mark of someone who cares about the team," he said. "The dedication and integrity and that I would expect in my police department."
Jo Ann Cathcart worked at the station for many years and has known DiRenzo since he was young. She has watched DiRenzo grow into the polished, intelligent man he is today, and said it has been a privilege to know him.
"I will miss you as Captain DiRenzo, and I look forward to knowing you as Attorney DiRenzo," said Cathcart.
The choice to retire
When asked about what led to the decision to retire, DiRenzo said he considered it for some time. He said that one factor was that it would give the younger officers an opportunity to move up in the ranks. DiRenzo's retirement will give the supervisors interested a chance to apply for the position, which will in turn allow officers to seek a leadership role, and this could lead to a new hire. He said that a department needs new faces and fresh ideas.
"They're all very bright, a lot of experience here," he said. "It's good for a police department to not get stale, to get new leadership. Me sticking around for personal reasons didn't make sense."
In addition to his role with the department, DiRenzo is also an attorney. He took the bar exam to enhance his skills as an officer, and later opened his own practice—the Law Office of Joseph P. DiRenzo, P.C.— in 2009, working on estate planning and wills. He did this in his off-hours and weekends, and credited his wife for being "my superwoman and my rock" during that time. He plans to continue his role as an attorney, working out of his office at 1 North Ave. He said that he's ready for the change and likes that he'll be able to spend more time with his family.
"It's good to step aside and let the younger guys create something here," he said. "There's a lot of tradition and history here."