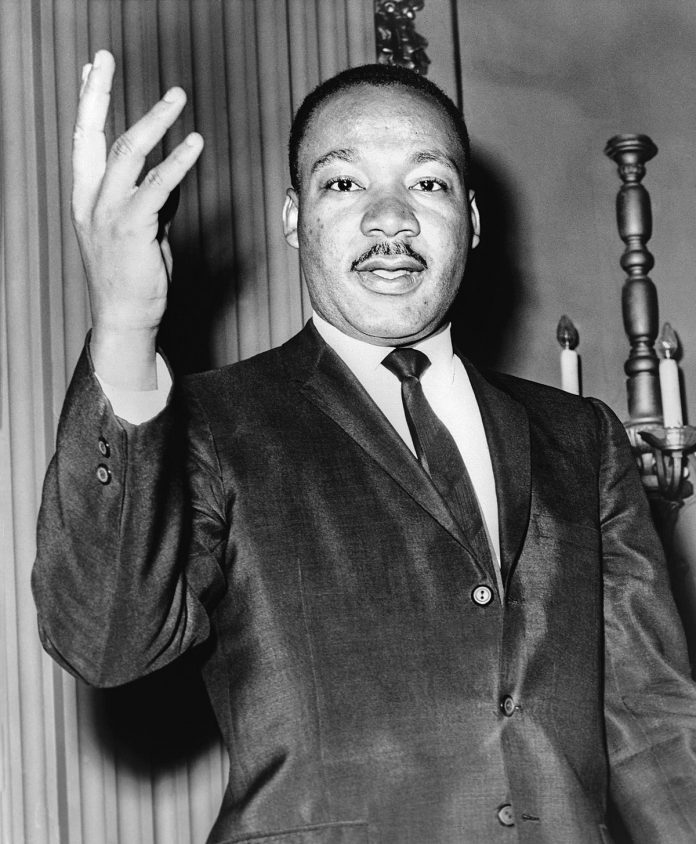 By Max Bowen-max.bowen@northstarreporter.com
Being woke is used often in social media, referring to being socially aware.
But though the term has become part of the mainstream, it's far from a new concept, and one that The Rev. Dr. Martin Luther King, Jr., tried to instill in others.
On Monday, Jan. 18, The Rev. Dr. Martin Luther King, Jr. Memorial Committee of Greater Attleboro hosted its 34th annual commemoration of the Martin Luther King, Jr. holiday. Due to the pandemic, the usual gathering had to be suspended in lieu of a virtual event, broadcast on DoubleACS and NorthTV. State, local officials, and members of the committee shared pre-recorded messages of support, the need to work together, and changes that need to come about.
State Rep. Adam Scanlon said that the last 12 months have challenged us, and asked viewers to stand up for inequalities, that civil disobedience is still relevant as it was 50 years ago.
"Dr. King fought for equal rights," said Scanlon. "It was not just his dream, but rather, it should be our shared dream. Stay resolute in calling for equity."
Attleboro Mayor Paul Heroux said that even with the election over, the work goes on. When he ran for mayor, he saw what needed to be done, and that the community does not stand for discrimination. He condemned the events of Jan. 6, and the comparison to the Black Lives Matter movement, as the latter stood against real injustices, while Stop the Steal is based on lies.
"There is so much more we need to do to live up to the words, 'we hold these truths to be self-evident,'" said Heroux.
State Sen. Becca Rausch said that losing hope means losing the vitality to move forward. She said the last year has provided ample reason to lose hope, from the loss of black lives at the hands of law enforcement to the attempted coup of the nation's capital.
"These events only scratch the surface on the hardship that 2020 has caused," said Rausch. "I'm more aware than ever that the dream Dr. King articulated has not been achieved."
Keynote speaker Ron Jones is the founder of Dialogues on Diversity, which uses theatrical models to promote dialogue and understanding around diversity, cultural sensitivity, and social justice. His address began with a brief theater piece that portrayed two men—one white, one black—in the waiting room of a hospital on July 2, 1964, the date that the Equal Rights Act was enacted. Both are awaiting word on the birth of their children and watch the address announcing the Act's passage. The black man said that their children being born on this day means something, that the nation is at a turning point, if they are willing to meet it.
The white man knows that things aren't as they should be, but asks what he can do about it. The other says that he doesn't need to have it all figured out,
"If you think things ain't right, you gotta do the right thing," he says.
Jones said that many consider this to be America's turning point, with political polarization, the pandemic, and the Black Lives Matter and #MeToo movements. He said people often look at Dr. King's early life and career, and not what he worked toward following the passage of the Civil Rights Act.
"King had doubts as to the pace of change," said Jones. "He began to broaden the base of his advocacy and that idea of what we need to focus on."
This led to the Poor People's Campaign, a response to former President Lyndon Johnson's war on poverty. King brought together people of all races, all affected by poverty. Though King died without being able to see this through to the end, his friends and supporters carried on, bringing together thousands in Washington so those in power could see how badly their own citizens needed help.
"They saw the grand thread in American dignity," said Jones. "It's not too heavy to lift, but it's too heavy to do alone."
Jones said that American is a civil rights story, from when the Pilgrims first came here to escape religious persecution to the drafting of the Constitution, and on through this nation's history—slavery, trade unionization, women's suffrage, and child labor.
"America is defined by civil rights moments, movements, and sadly, it's failures," said Jones, referring to the Trail of Tears and the internment of United States citizens of Japanese descent during World War II.
Jones said that King believed that change takes time, but it has been seen in the years since his death. He said that we are now the inheritors of that shared dream and that if we say we're woke, then we need to be American woke and stand up for others.
"If you rise to the moment," said Jones. "I believe you can change the world."