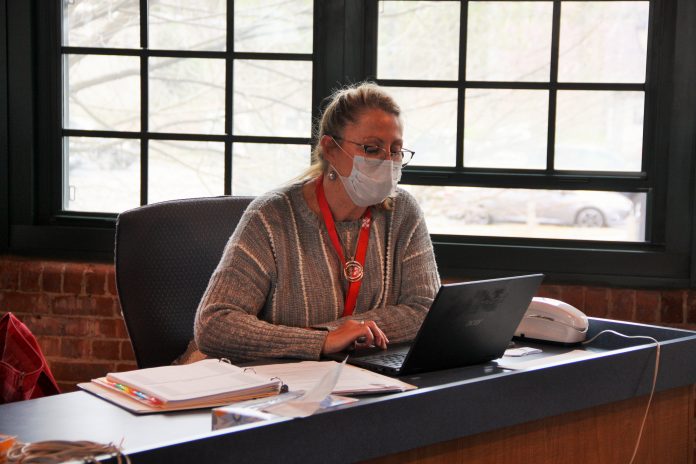 By Max Bowen-max.bowen@northstarreporter.com
It'd be easy to just make the pandemic the focus of this list. After all, it's impacted every aspect of our lives. But still, there were plenty of tales about people in North Attleborough who made their mark in one way or another.
Betty Poirier—In late March, State Representative Betty Poirier announced that she would not seek re-election after 20 years serving the 14th Bristol District. Poirier is known for being a strong presence around town and supporter of many different charities and organizations, including the WW II Memorial Pool. Betty's Angels collects school supplies for area students, food for the needy, and other charitable causes. She said that over the years she's developed relationships with people in different organizations and governments, and she'll miss seeing them.
Poirier succeeded her husband, Town Clerk Kevin Poirier, who served in the same role for more than 20 years. When asked about her fondest memories, she said it was being able to cut through the red tape to get people the help they need or get them through a difficult time. In particular, she's proud of the work done on the Memorial Pool and the Children's Advocacy Center of Bristol County. Last summer, she worked with entire Bristol County delegates to secure $500,000 for the center.
The Daniel J. Hollis Foundation—In October of 2019, North Attleborough grieved for the passing of Daniel Hollis, son of Martin School Principal Jennifer Kelly. Following the outpouring of support and countless stories about his impact on others, the family wanted to find a way to ensure that his positive legacy would continue.
They started the Daniel J. Hollis Foundation in January, and among the many events they have organized is the Express Yourself Challenge to support the young in their creative endeavors.
Reagan Lapointe—In the early days of the pandemic, people remained in their homes for days on end, cut off from their friends and family. Reagan Lapointe, daughter of Town Council President Keith Lapointe, started a daily livestream on Facebook on her father's page.
"I feel really happy by making other people happy," she said. "I like making the kids feel better."
In each video, which sees many viewers, shares, and comments, Reagan leads arts and crafts projects, reads from books such as "Hop on Pop" and " When I Grow Up" by Weird Al Yankovic, and does 'Freeze Dances' to popular music. Prior to each livestream, they made a brief preview video showing what they'll be doing.
Adam Scanlon—2021 will seethe conclusion Betty Poirier's time as state representative after 20 years in the role. Many stepped up to fill her shoes, and in the November Election, Adam Scanlon received a strong majority to be the next representative of the 14th Bristol District.
Scanlon has been an active member of the community since the age of 18, serving as a Town Meeting Representative, member of the School Committee, and most recently, as a Town Councilor. He received a number of local and regional endorsements as people spoke to his commitment to the district and knowledge of the issues facing it.
Food Pantries—As people suffered furloughs and layoffs, keeping food on the table has become a challenge for many. North Attleborough has a number of food pantries and charities that provide meals for those in need, and these all saw a strong increase in usage since March. Through a combination of increased donations and volunteers, they've met the need and helped many through this difficult time.
Sarah Stone manages the Fuel for the Weekend program, which relocated from the Community School to the Alternative Market in March after the schools were closed. She said more than 80 people signed up for the program, and more had offered to pack or deliver meals.
Human Service Coordinator Joan Badger said that Lenore's Pantry has also seen an increase in use. She's also directed them to other resources, such as the YMCA or Hebron Food Pantry. Lenore's does a monthly pickup, and the food is brought out to the recipient's vehicles. Volunteers then step back to meet social distancing, allowing the recipients to place the food in their vehicle. Badger said many people have made monetary donations as well as gift cards.
School Nurses—Since March 24 and through the end of June, North Attleborough's school nurses manned the phones at the police department's Emergency Operations Center. There, they made calls to those who have been confirmed to be among the positive coronavirus cases, as well as their contacts when needed.
Each case was called every other day, and questions asked, such as their symptoms. They also ask if a patient had to be hospitalized or if pneumonia developed. They ask about possible exposure to others or where the patient was first exposed to COVID-19. Each day two nurses made the calls to patients while two worked the North Nurses Line, through which residents can call with questions on COVID-19. They also helped deliver medications and checked to see if daycare is needed.
New Businesses Open—2020 was hardly the best time to open a new business, but with the process already underway, owners made the best of the situation and adapted where needed. This included staggering scheduled work on the property and conducting permit applications via Zoom. Among the new businesses to open their doors in North Attleborough this year are Laughing Shield Comic Shop, Triple Play Car Wash's North Attleborough location, and Althea's Beauty Depot.
Good Samaritan replaces steps at Grace Church—Rick Mabie was a skilled mason looking for work when he drove by Grace Episcopal Church and noticed a chain on the front steps. Those steps were falling apart and had been deemed dangerous. The church's Building and Grounds team had placed the chain there for safety reasons, knowing that the cost of repairing them was more than could be afforded.
Mabie knew he could do something about those steps. He returned to check out the sign and phone number, and quickly called the Church Administrator to introduce himself and to ask for a meeting to discuss the project. The Building and Grounds Team expressed that they would love to have him to do the job, but that there was no money to pay him. Mabie said he would repair our steps at no cost. Mabie went right to work. Using his own tools, he labored for four full days, aided by a parishioner.
Tony Calcia's legacy in North Attleborough—In March, the community mourned the passing of Tony Calcia. It'd be hard to find someone who didn't have a story about him, so strong was his presence in the community. Calcia was very involved with the town, and touched the hearts of the people in it. He worked with both kids and adults for the North Attleborough Park and Rec Department, followed by the YMCA. He also participated in the School Committee, and was a volunteer football coach.
Calcia started his career working with children and making an impact on their lives as a North Attleborough Parks Director. Calcia later became a Vice President of Child Protection at the YMCA. He was very passionate about protecting children from child abuse and sexual abuse. He created educational roles in how to do that, trained over 5,000 adults, and traveled to YMCAs around the country to help train staff members on how to protect children. 
Black Lives Matter supporters—In June, members of the community spoke out against racism and violence at a number of events in North Attleborough. Two of these were organized by North Attleborough students Jocelyn Jackson and Hannah Demarco, the first of which was a protest march that ended at the Town Common and the second, a vigil that drew more than 50 people to the field outside the middle school.
North Attleborough resident Shannon MacCormack helped organize a sign-making event where people created their own messages against hate and supporting one another. The Town Council also spoke on this issue. Councilor Darius Gregory said that people can make a difference by doing something. This 'something' does not need to be vocal, he said. It can be a time of quiet reflection on one's own inner biases. If everyone can do this, he said, people can emerge from it and relish the notion of "one nation under God, indivisible, with liberty and justice for all."
Jason Beaulieu—From the age of 4, Jason Beaulieu loved to play sports. Whether that was baseball, football, track and field, or basketball, he could often be found on a field or court. Obstacles pushed him to new heights, setting records as he closed out his time at Tri-County Regional Vocational Technical High School with the Class of 2020.
Beaulieu received the Cougar Lifetime Achievement Award, given to student athletes who have participated in 12 consecutive seasons of athletics at the school. He was also named the the 2020 Male Scholar Athlete of the Year, which goes to those that maintain high grades while playing sports. While at Tri-County, Beaulieu played football and was on the track and field and wrestling teams. Because these took place in different seasons, he said that he was always playing a sport
Dancers Drawer celebrates 35 years—On Oct. 24, The Dancers Drawer celebrated the retail dance store's 35th anniversary. Originally located in The Odd Fellows building, it has been a mainstay of the community.
"I'm blessed," said owner Susan Barbour. "During COVID, most small businesses were wondering if they will make it, will the doors open."
Barbour first came to the store with her 2-year-old child to ask about dance lessons, and founder Mary Jane Dean asked if she'd like to work there. Mary Jane—who passed away in 2014—was the creator of the Dimension Center of Dance and Dancers Drawer, starting in a two-car garage in Plainville. As the business grew she relocated to the Mason Building and further success allowed her to purchase the Odd Fellows Building. This gave her the space for Dancers Drawer, which is now located adjacent to Dimensions Dance, at the corner of Orne and N. Washington streets. Barbour credits the business lasting 35 years to being a welcoming location and the support of the community.