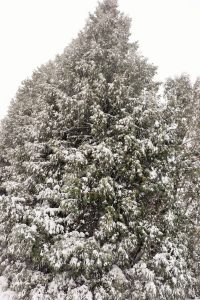 By Max Bowen-max.bowen@northstarreporer.com
A powerful snowstorm left few in North Attleborough without power, and many decided to venture outside to enjoy the winter wonderland.
The storm began around 8 p.m. on Wednesday, Dec. 16, and lasted into the late afternoon on Thursday. Town Hall, the library, and other municipal offices were closed on Thursday, and school was remote for all students. Trash collection was delayed by one day for the remainder of the week.
According to information posted by North Attleborough Electric, few outages occurred, but these were resolved in short order. NAED vehicles could be seen driving around town on Thursday.
At First United Methodist Church, the hill facing Route 1 was filled with families as children enjoyed an afternoon of sledding. Everyone present wore masks and kept a distance between one another. The area is a popular sledding site and frequently sees people after a snowstorm.