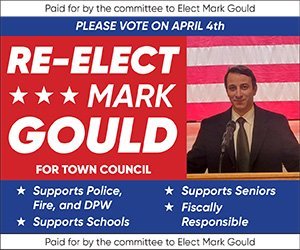 By Max Bowen-max.bowen@northstarreporter.com
A U.S. Marine faces charges in the death of Daniel Hollis, son of Martin School Principal Jennifer Kelly.
According to a statement from the Marine Corps, Lance Cpl. Samuel London has been charged with murder with intent to kill or inflict great bodily harm, voluntary manslaughter, involuntary manslaughter, two counts of assault and battery, and wrongful use of a controlled substance.
In February, a Suffolk County Grand Jury issued a No Bill and did not indict London on the charges.
"At that time, we felt that there was no justice for our son, our family, and all those who Dan loved and loved him in return," said the family in a statement posted to the Daniel J. Hollis Foundation web site. "We carried on, because we knew that is what Dan would want us to do and we focused our energy on building the DJH Foundation and encouraging good acts for young people in our community."
Hollis was a student at Emerson College, where he majored in Marketing Communications and was a member of the Mens Lacrosse Team. According to police reports, in the early morning hours of Sept. 28, 2019, he and a group of friends were leaving a party in Brighton when they were confronted by another group of college-aged boys. A fight ensued, and Hollis fell and struck his head, resulting in a serious injury. Hollis succumbed to his injuries a few days later at the age of 19.
In June, the family was told that the military would be taking over the investigation, since London was a reservist who was on active duty at the time of Hollis' death.
"As a family, we are incredibly grateful to the NCIS Investigative Team and the Marine Corps prosecuting team for their tireless work and constant communication with our family," wrote the family. "Having experienced the disappointment of the Suffolk County Grand Jury's decision in February, we were reluctant to share that the case was not over."
In memory of Daniel, the family started the Daniel J. Hollis Foundation. The outpouring of support that the family received was tremendous, and they were told countless stories about his impact on others. When it became clear that Daniel would not recover from his injuries, the family wanted to find a way to ensure that his positive legacy would continue. The foundation has held a number of fundraisers since it was started, including the Express Yourself Challenge.
"The best way to support us and honor Dan's memory during this time is to remember the light and goodness Dan brought us every day," wrote the family. "Support our foundation as we continue to aid young people in making the world a better place through building community, healthy competition, and fostering curiosity. Thank you for your ongoing support and well wishes."