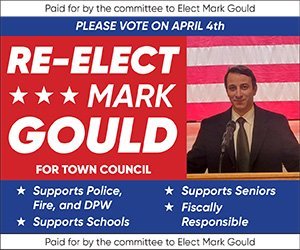 By Max Bowen-max.bowen@northstarreporter.com
When State Rep. Betty Poirier began organizing the 2020 Supply Sacks drive, she was worried that the pandemic would limit what would come through.
But after announcing that donations of clothing, school supplies, and backpacks were being accepted, she was pleasantly surprised to see that the spirit of giving is as strong as ever.
"I love the response," said Poirier on Nov. 4, when the donations were presented. "People really stepped up."
Supply Sacks is a program run through Poirier's office and dedicated to assist children who reside in foster care in North Attleborough as well as surrounding communities. The program gives a backpack filled with clothes and other basic necessities to every child that is newly entering local area Department of Children and Families. Joseph Rucker, area director for DCF, said that the need hasn't diminished during the last eight months.
"This is huge," said Rucker upon seeing the items collected.
Rucker added that the department is working with 320 children at this time, and many come with nothing but the clothes they're wearing. With so many families struggling right now, Rucker said the need is greater than ever.
"This will be big for Christmas," he said.
The pile of donations was placed in the lobby of Town Hall and stood nearly five feet high. There were pens, pencils, and colored markers, stuffed animals, backpacks with popular Disney characters, face masks and hand sanitizer, and hand-knitted items from the Bungay Lake Knitting Group. Comprised of residents of the Bungay Lake area, the group was established 15 years ago and meets monthly to work on their creations or swap knitting patterns.
Sylvia Day, a member of the group, said they make hats, mittens, and scarves for Madonna Manor, Abundant Hope, area homeless shelters, and of course, Supply Sacks.
"People need it right now and we were able to donate right now," said Day, a former special education director and teacher in Attleboro.
Day said that regular meetings of the group were suspended during the pandemic and switched to Zoom or socially distanced outdoor gatherings. One knitter, who lives in Texas, continues to stay in touch with the group and send finished mittens and hats.
"Everyone's been very generous," she said.
In addition to the donations of items, Poirier said a substantial monetary contribution was made. Plainridge contributed to the charity by holding a drive, as did the Attleboro YMCA.
"People are awesome," said Poirier. "They always come through."