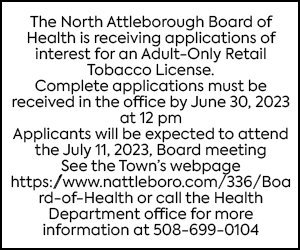 By Max Bowen-max.bowen@northstarreporter.com
Adam Scanlon, a member of the Town Council who saw strong support locally and in state government, will be the next representative for the 14th Bristol District.
Scanlon, running as a Democrat, faced off against Republican candidate and fellow Town Councilor John Simmons. Scanlon defeated Simmons in the Mansfield and Attleboro precincts that make up the 14th Bristol District, earning a total 3,655 and 2,602, respectively. In North Attleboro, Scanlon received 8,028 votes to Simmons' 7,434. There were 11 write-in votes and 730 blanks.
Due to technical issues, the 933 votes from Precinct 1 in North Attleborough have not been tabulated as of this time. However, the standing tally places Scanlon 1,644 votes ahead of his opponent.
The 14th Bristol District consists of North Attleborough and one precinct in Mansfield and Attleboro. For the last 40 years it has been held by a member of the Poirier family—first by Kevin, and later by his wife Betty. Earlier this year Betty announced she would not seek re-election.
In a statement to his campaign Facebook page, Simmons expressed pride for his campaign team and supporters and thank everyone who voted. He plans to remain in his role of town councilor.
"Representative Elect Scanlon ran a good, hard, clean campaign and I wish him much success," wrote Simmons, a business owner with a long history of community service. "If he succeeds, the entire 14th Bristol does and that is all that matters."
Simmons ran for the seat after Town Councilor Michael Lennox—who pulled papers back in April—stepped down in September due to health concerns. This left him with little time to establish himself as a candidate, and he cited the networks he had built as a business owner, coach, and working with different organizations as helpful in that regard. However, he said the time it took to earn endorsements and reach out to residents was a hurdle, given the short window between the Primary and the General Election.
"If anything, this just increases my urge to serve, not just in North Attleborough, but throughout the district," said Simmons. "I'm disappointed, but not discouraged."
Simmons said that as a lover of politics, he had considered running for state government, but given the work being done by the Poiriers, there was no need. When the time came to decide, he spoke to his children to make sure they were on board, and both were on hand at Election Day to hold signs and help their father.
"All you can do is put the work in," he said.
In a post to social media, Scanlon wrote that running for the seat has been the experience of a lifetime and he was grateful for the grassroots support he has received. He thanked Simmons for running a great campaign, as well his service to the community. Scanlon said that Simmons conceded the race via text message at 7 a.m. on Wednesday. Scanlon said that this spoke well of Simmons' professionalism and credited the campaign he ran.
"It was a privilege to campaign against such a worthy fellow candidate who clearly has a deep love for the town of North Attleborough," wrote Scanlon, who also served on RTM and the School Committee.
Scanlon ran for the Democratic nomination against former Selectman Patrick Reynolds, defeating him by only 118 votes. He felt his message of equity and equality, along with support for public resources, resonated with voters. He said that businesses are still struggling, and there is more that can be done to support them. Increased transparency has been another goal and he said this was something his supporters often commented on.
Scanlon thanked the Poiriers for all the years they devoted to the communities and the work that they have done.
"Over the years, they have provided excellent constituent services to so many and have attended to a variety of charitable work," Scanlon wrote. "I am hoping to learn more from them as part of a smooth transition."
Scanlon received a long list of endorsements, including Congressman Joe Kennedy III, members of the Mansfield, Attleboro, and North Attleborough town government, State Sens. Becca Rausch and Paul Feeney, Massachusetts AFL-CIO, Massachusetts Voters for Animals, The Sierra Club, among others. He and Simmons ran a clean campaign, avoiding cheap shots and sticking to the issues.
"I am honored to be elected your next State Representative," wrote Scanlon. "Over the next few weeks we will be posting regular updates on how we will be moving forward."