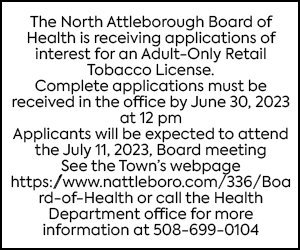 By Max Bowen-max.bowen@northstarreporter.com
School in North Attleborough began on Sept. 17, but it's been far from a normal academic year.
Due to the ongoing COVID-19 pandemic, much has changed at schools nationwide. Face masks are now mandatory. Fewer students are allowed on the bus. Sports like football, basketball, and competitive cheerleading are being held off until February 2021. Some clubs and organizations won't be meeting in the usual way.
But still, students persevere and make the best of the challenging situation. In this article, several NAHS students spoke on how it feels to be starting a much different school year.
Back in the classroom
Melissa Sapini, now in her senior year, said it has been a strange experience being back in school, and not at all what she expected. Her first day of class was online, and logging on and off has been one of the many things she's been getting used to. Back in the early days of the pandemic, she hoped things would be back to normal in the fall, which she now said was a little naïve.
"I was going into senior year being excited for certain things, such as homecoming rally and spirit week," she said, unsure how or if these milestones will still happen.
Fellow seniors Dylan Desrosiers and Alicia Hawe said they have really looked forward to being back in school. Hawe said it was good to see her friends and teachers in person once more.
"The part of school that I missed most during remote learning last year was not being able to see my friends," said Desrosiers. "Texting and calling just isn't the same as seeing each other in person."
New rules of school
Among some of the guidelines that schools have to follow is a smaller classroom so everyone can properly social distance. Sapini said this has been helpful, because the students get more time with their teachers if needed. They're responsible for wiping down desks before and after class and of course, need to wear masks all day.
Sapini feels that she's adjusted well to things like wearing masks and social distancing, but added that it's made spending time with family difficult. She has a grandmother in Haiti that she normally visits in the spring, something that wasn't possible this year. Another grandparent lives in Cape Dennis, and while Sapini was able to visit, it wasn't without restrictions.
"Last time I saw her, I had to stand behind the fence," she said.
Hawe said the rules aren't that new, that everyone has been practicing them over the summer or at their jobs. She doesn't feel they are too excessive, though one that requires entering a QR code to enter a classroom has been difficult. Doing this is a requirement should a student or faculty member be positive for COVID and require contact tracing.
Hawe said that she feels safe, but is concerned that some students may not be following the rules.
"I am always worried that those students could bring the virus into the school and cause others to get sick," she said.
Desrosiers said that the guidelines inside school are the same as others he's been practicing, so the adjustment has been easy. A new one that he's isn't a fan of is having to leave school immediately once the day ends, as that's a good time to talk with teachers.
"The rules are based on science and guidance from public health officials, which is reassuring to me," said Desrosiers.
After-school activities
While the school day is a far cry from the norm, it's what comes after that has seen even more changes. Before the pandemic, Howe was involved in the LEO Club and student government. Class officer meetings still take place virtually, but she said it is hard to participate in a club dedicated to volunteering when opportunities are so few.
Howe is also a member of the school's dance team, which has been canceled for the year. She said the news was especially disappointing, since this would have been her last year with the team.
"I was also a little frustrated, because I don't really understand why possible contact sports like soccer and field hockey can play while dancing can easily involve no contact, yet we can't perform or practice at all," said Howe.
Desrosiers said he's enjoyed being a part of extracurricular programs, but is unsure how they're going to be done under the new guidelines. He's heard of some going full virtual, and others have yet to be decided upon.
"As a student who doesn't play any sports but does a lot of extracurriculars, having all of them canceled or going virtual doesn't seem fair when some sports are going to be allowed to meet," he said.
Sapini has seen a mixed result when it comes to the programs she's involved with. The cross country team, which she is a part of, has resumed practices and meets, but the drama club is doing virtual plays for the time being.
Sapini is also a model and actress, and has seen much of the work she was set to do delayed or halted. A film set to begin production in June was pushed back to August, and her modeling stopped, with the exception of one done through Zoom and another under strict guidelines. Last year she participated in the Miss Teen Massachusetts Pageant and planned to do so again—then she learned the competition had been postponed until next March.
"There is just new formatting for everything," said Sapini.
Learning remotely
North Schools are utilizing the hybrid model—students are split into two groups or 'cohorts,' and each cohort is in class two days a week. The other three days are remote learning, with both cohorts doing this on Wednesdays. When the pandemic hit back in March, schools went fully remote through the end of the school year.
Desrosiers said that remote classes are much improved from before. In the spring, he said that none of the work had deadlines, and many procrastinated until the last minute. This time, he said the classes are held as if they were all in the same room. Video chats are held with the teachers, and there is also independent or group work.
"The school year has gone very smoothly so far, including all the technology, which was surprising," he said. "I thought for sure the year would be laden with technology issues."
Sapini and Howe echoed this, saying that things are far less stressful. Howe said there is a set schedule this year and things are more organized.
"I honestly like my remote days better than in-person days because it is less stressful and I can work on things in my own time for the most part," said Howe.
Families also have the option of keeping their children home all week and learning remotely. Such was the case with senior Sean Perez. There were several reasons for this, one of them being his father contracting COVID prior to start of the pandemic. Things got so serious that his father had to go to an ICU and to this day has difficulty breathing. His mother has some pre-existing conditions that would put her far more at risk should she contract COVID.
"With this event and factor in mind I could not take any risk that could expose me to COVID," said Perez.
Remote learning has been improved a lot, said Perez, but more can be done. For some classes, he said students log in and after getting their assignments, log out to begin them. While this works at some times, Perez said it can be isolating since remote learners do much of their work through videos and reading. He added that of his seven classes, three have active engagement from teachers and for two, they're just given assignments and then log off.
"Though it is an improvement from last year, some classes could be improved and some are the best they can be in the current situation," he said.