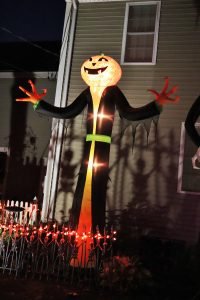 By Max Bowen-max.bowen@northstarreporter.com
In the depths of North Attleborough, something wicked is brewing, creatures from your most haunted nightmares, and only the bravest may tread these paths.
Outside a home on Peterson Street, the Zak family has set up a truly amazing Halloween display. Kate Zak said this has become an annual tradition, with 13-foot-tall creatures named Deuce, Pumpkinhead, The Spider, and Charlie set up outside the home. The decorations were placed on Oct. 1, and took a few days to complete.
"I've always loved Halloween," said Kate, whose birthday falls near the October holiday. "It's a bigger deal than Christmas."
Pumpkinhead was the first and over the years, the Zaks have added to the display, which includes a graveyard, wrought iron gate, and orange and red lights. A giant skeleton affectionately named Charlie is the most recent addition. Kate said they found the haunting apparatus—completed with glowing eyes that move and blink—at Home Depot. The search took some time, and they eventually found one in Taunton.
"He was worth it," said Kate.