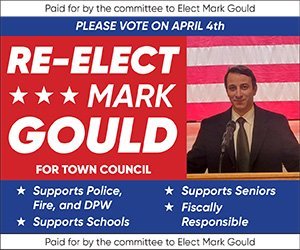 Adam Scanlon has the commitment to serve as state representative
I have the pleasure of working along side both candidates that are campaigning for state representative. They both are strong candidates, but after careful consideration I would like to publicly endorse Adam Scanlon.
Adam Scanlon has earned my respect and confidence from the work he has done on the town Bylaw Subcommittee. As chair, he is diligent about meeting and goes the extra mile to prepare and he uses his 24 hours in a day wisely.
Mr. Scanlon realized a void in our town in regards to blighted properties and he took swift action in drafting legislation to address it working with key stakeholders and councilors.
The decision to endorse Adam is simple—I want someone that has the time, energy and commitment to the role as state representative. His priority is to serve and he doesn't have other competing priorities such as being a small business owner, father, husband, coach, etc.
All of his time and energy will be directed towards enriching the lives of those that reside in our community. He is passionate and can work with people on both sides for a better tomorrow. He is aware of the issues that are pressing in our town and he has a clear plan of attack.
I want the candidate that will listen to all perspectives and can work with the majority on Beacon Hill. As a relatively new member to the town of North Attelborough, my opinion is unbiased, as such, join me in voting for Adam Scanlon who will get results within his first term. Trust me!
Darius J Gregory, Member, North Attleboro Town Council
Endorsements for Adam Scanlon (D), State Rep
As North Attleborough's Town Council Vice President, and chairman of the Finance Committee, and previously a member of the Board of Selectmen, RTM, and the "old" Finance Committee, I have a deep understanding of how North Attleborough has consistently been on the "short end of the stick" when it comes to the amount of State Aid we receive. State aid has decreased as a percentage of our town's budget every year that I've been in office and is part of a long-term trend that goes back over a decade. This hurts our town's ability to fund critical services and forces us to rely more on local property taxes to fund our town.
With COVID-19 putting a strain on state coffers, state aid is more at risk than ever. As such, it is of critical importance that we elect leaders who have a deep understanding of the budgetary and policy issues facing our communities, and who have a proven track record of rolling up their sleeves, and doing the hard work required to ensure that we finally start getting our fair share of state aid back into our town.
That candidate is Adam Scanlon.
Thank you, Justin Pare' North Attleborough Town Council Vice President, Chairman of the Standing Finance Committee
It's time to flip the script
I am excited to support Adam Scanlon on his journey to be our next state representative. I have been fortunate to have the opportunity to participate in local town government for some time now: through the RTM, the Finance Committee, and now through the North Attleborough Town Council. During this time I have had a chance to get to know Adam through his continued participation in our town, starting as a student in high school. As a parent of high school boys, I am deeply impressed with this commitment. Adam was volunteering his time to enhance our town as a member of the School Committee while most students his age were more worried about the latest video game release. Since graduating, Adam has continued to volunteer, through School Committee, RTM, and now Town Council. He knows our town, and everything we so desperately need.

The seat Adam will fill has been held by the same family for 40 years. During this time, North Attleborough has struggled to fund our town, unable to get the funds from the state we need. Instead, as Adam said, we watched our tax dollars go to other communities, again and again. We took up collections to keep the street lights on, pay for crossing guards for our students, and open the pool summer after summer.
It's time to flip the script. I am tired of politicians who are looking to represent people who are just like them. This town is ready for someone who will fight for all of us at the state level, who will make sure school mandates are fully funded, and who will make sure struggling families will be supported, especially in this time when working families are put under more and more pressure.
I encourage everyone in the Town of North Attleborough and the 14th Bristol District to support Adam in this upcoming election.
Kathleen Prescott, North Attleborough
Scanlon will always show up
We, the members of the North Attleboro Democratic Town Committee, are writing this letter to endorse Adam Scanlon, who is running for state representative. Scanlon has dedicated his life to serving our community. In 2015, at only 18, he was elected as a Representative Town Meeting member. Two years later, he was elected as one of the youngest ever School Committee members. In 2019, Scanlon, in a large field of candidates, was then elected to the newly formed Town Council.
Seriously committed to his responsibilities, he puts his job as an elected official first and foremost, above all other personal and professional activities. This is the type of individual that North Attleboro needs to represent us on Beacon Hill. He will always show up. Scanlon is committed to improving the lives of working individuals and the elderly in this district. He supports affordable health care, high quality education, and an economy that works for all people. We need a champion for our district, someone who will continue to fight for increased state aid. We need a voice on the Hill, an official who isn't willing to settle for the status quo. Please vote for Adam Scanlon as our next State Representative.
Peter Brock, Chairman
Lea Macnider
Adeline Bee
Christine Conroy Kristeller
Maggie Collins
Bill Burke
Maureen Burke
Russell M. Kenney
Karen Brennan
Trust for John Simmons as next state representative
As the president of North Attleborough's Town Council, I have had the privilege of knowing and working with both candidates for representative of the Bristol 14th District. I understand their individual priorities and have been fortunate to have had the opportunity to help them achieve their goals for North Attleborough.
While I value and genuinely appreciate both individuals, I make my endorsement as a simple matter of trust. Both have strong resumes, John as an attorney, small business owner, and National Guard member; Adam as he has effectively laid the foundation that will prepare him for a career in politics. So, who do I trust to make the decisions that best represent our community in the future?
I trust John Simmons to help create balance in the State House. I trust John Simmons to make the state's reach narrower, not broader. I trust John Simmons to hold the line on taxes and not agree to unfunded state programs. I trust John Simmons to compromise and listen to all voices. I trust John Simmons to be a champion of the middle. I trust John Simmons to honor our traditions, but have the courage to drive meaningful change for the future. I trust John Simmons to truly understand my issues as a tax payer and parent because he has paid taxes and raised children. I would also trust John Simmons with my own money or to manage my own affairs.
Both of these men are hard working and caring individuals, but there is only one I trust with these incredible responsibilities. Please join me in voting for John Simmons as our next State Representative.
Keith Lapointe, president, North Attleborough Town Council