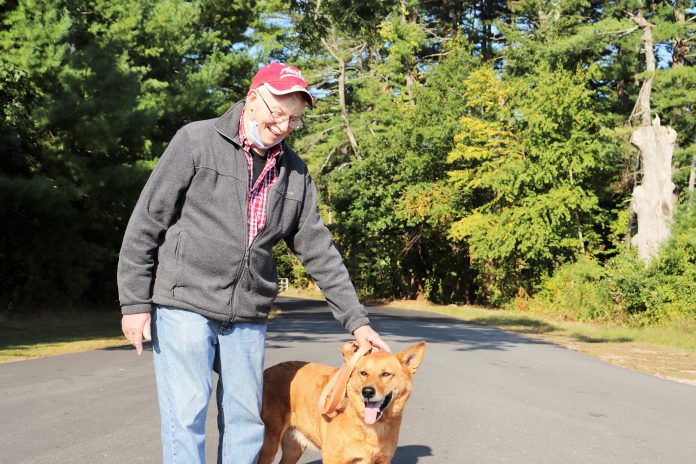 By Max Bowen-max.bowen@northstarreporter.com
Over the last 15 years, Jack Cotter has been a familiar and welcome face at the North Attleborough Animal Shelter.
But it's not just the staff that are happy to see him every morning, but the dogs he walks five days a week. Cotter—a North native and Attleboro resident—had his last day at the shelter on Sept. 23 before he moves to South Dakota to be with family.
"When I retired, I had to have something to do and this has always been my favorite place," said Cotter on Wednesday as he walked Apollo.
Cotter was already familiar with the shelter before he began volunteering. His three dogs—Buddy, Frisky, and Johnny—had all been there before he adopted them. In fact, Johnny's photo hangs on the wall of the building, facing the dog kennels. Call him Jack of All Trades, because he's done it all, and became a regular walker a few years ago. Animal Control Officer Felicia Camara said Cotter was fantastic to work with and said that along with his duties at the shelter, he'd take the dogs to their obedience classes. She said Cotter would arrive no matter the whether, and joked that she sometimes had to ask him to head home on days when it was too icy to walk the dogs.
"He's irreplaceable," she said.
Camara gave Cotter a letter of recommendation should he wish to continue dog walking, and he hopes that can happen. He's walked dogs of all kinds and got to know the different breeds and what makes them unique. He said pit bulls can be very friendly, but sometimes change moods quickly. Small dogs need to be watched if they're around children, as they can become afraid and bite.
"I learned a great deal about what can happen to them," he said of the dogs.
Donna Thomas has worked with Cotter at the shelter for 13 years. She said he would do anything that was asked and always good to work with. When Cotter arrives, Thomas said the dogs would get excited, knowing that their walk would be happening soon.
"They're going to miss him," she said of the dogs.
Camara hopes to find another dog walker, but admits that it will be a challenge to find someone as reliable as Cotter. Ideally, it would be someone who knows dogs well, understands them, and is comfortable being around different breeds.
"He's helped us place so many dogs" said Camara. "Any shelter that gets him, it makes all the difference in dogs getting adopted."