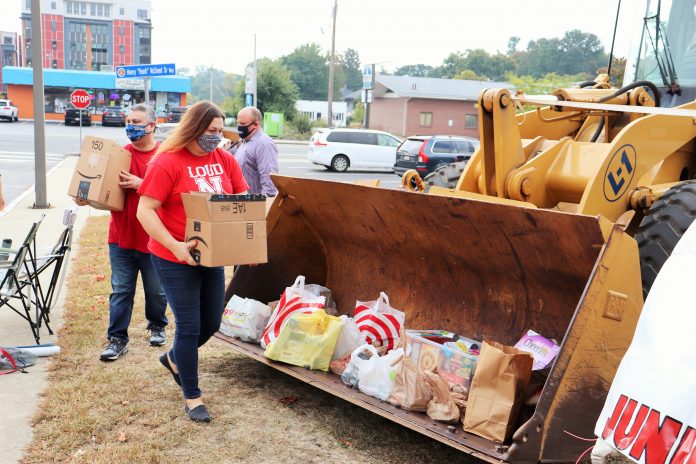 By Max Bowen-max.bowen@northstarreporter.com
Amidst the COVID-19 pandemic, food pantries are seeing an increased demand as families struggle with unexpected job losses.
But with so many hurting, surely demand would outstrip supply, right? Well, that is where you'd be wrong.
The annual Day of Caring, a partnership between Betty's Angels and North Attleborough Junior Football, saw a tremendous turnout as a front end-loader used to collect donations was filled five times during a four-hour period on Saturday, Sept. 26. Betty's Angels is run by run by State Rep. Betty Poirier. Joan Badger, Services Coordinator for the Board of Health, said that last year the loader was only filled two or three times.
"It's been an amazing, amazing day," she said as the final donations arrived.
The food collected will go to families that use the services of Lenore's Pantry. Badger said that service, like many others, has seen a sharp increase in use. In the last two weeks, 13 new families have signed up for it. Badger said this is partly due to the extended unemployment and SNAP benefits having recently ended.
"We started to get more calls [after the benefits ended]," said Badger. "People are concerned about food insecurity."
NAJF Vice-President Michele Trimbach said that players and those on the cheer squad are told of the benefit and many make contributions. Normally, this day coincides with the beginning of the NAJF season, but that has been canceled due to COVID. Still, Trimbach said the partnership continues, and it helps to show the players the need in their town.
"It teaches the kids how to give back," she said.
Misty and Pete Grenier were among the early donors Saturday morning. Misty, who is the assistant cheer coordinator for the NAJF, said they try to donate every year.
"It helps the community," she said.
James and Helenann Taylor believe that right now, everybody needs some help, and so headed to Town Hall, where the front end-loader was parked and adorned with banners for Betty's Angels and the NAJF.
"They really care about the people," said James of the organizers.
Poirier said that events like this both show the need and provide a way for the community to help. Especially now, she said it was important for the Day of Caring to continue.
"I'm so grateful," said Poirier as the event came to a close. "If you give people an opportunity, they always come through."