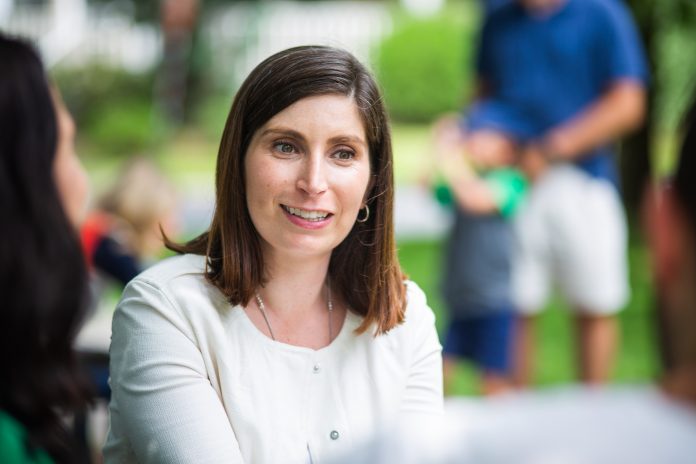 In the latest sign that Democrats are coalescing around Jesse Mermell's campaign for Congress as Election Day nears, State Sen. Becca Rausch endorsed Mermell. The Needham Democrat represents 12 communities, including 10 in the Fourth District and brings additional strength to Mermell's Attleboro-area coalition, building on endorsements from State Sen. Paul Feeney and State Rep. Jim Hawkins last week.
"Jesse Mermell is the champion I want representing me and my family in Congress. I've had the pleasure and privilege of working with Jesse and getting to know her during my tenure in the State Senate, as we both pushed for progress on reproductive health and justice, immigrant rights, economic equity, dismantling systemic racism, and more," said Rausch [D-Needham]. "Whatever the issue, I know that Jesse has the experience, savviness, dedication, and empathy to do the research, ask the questions, analyze diligently, and make the right call. That's what legislating is, especially during a global pandemic of epic proportions and the largest civil rights movement in the history of the world. Over the course of this campaign, Jesse has proven herself to be the Congresswoman our children, our families, and our communities both need and deserve.
"There are many strong candidates in this race for whom I have a great deal of respect and appreciation. Jesse Mermell has earned my vote, and I hope you'll join me in casting a ballot to send her to Washington."
"Senator Rausch and I have worked together hand-in-hand over the years leading on the issues that matter most to Massachusetts families," said Mermell. "I'm honored to have her endorsement and together we will expand this partnership to continue pushing for progressive change on the state and federal levels. With her support, our coalition in Attleboro and beyond is stronger than ever and sending a clear message to voters that I'm the proven progressive in this race who will best lead on our values in Congress."
Rausch was elected in 2018 as Senator for the Norfolk, Bristol and Middlesex Districts – including the Fourth District towns of Attleboro, Franklin, Millis, Needham, Norfolk, North Attleborough, Plainville, Sherborn, Wellesley and Wrentham. She is the chairperson for the Joint Committee on Municipalities, vice-chair for the Joint Committee on Elder Affairs, and a member of the Joint Committee on Children, Families and Persons with Disabilities, Joint Committee on Public Health, Joint Committee on Public Service, Joint Committee on State Administration and Regulatory Oversight, and the Joint Committee on Veterans and Federal Affairs. 
Mermell's campaign has seen a wave of major endorsements in the final weeks of the campaign as the choice voters have in this election becomes more clear. In addition to State Senator Paul Feeney and State Representative Jim Hawkins, she's been endorsed by more than 100 current and former elected officials, including Attorney General Maura Healey and Congresswoman Ayanna Pressley, former MA-04 candidate Dave Cavell, progressive advocacy organizations like Planned Parenthood, NARAL and the Coalition for Social Justice, and 21 unions representing 269,000 Massachusetts workers, including SEIU, the Massachusetts Teachers Association, the Massachusetts Nurses Association and more.
Election Day is Sept. 1 but voters can vote-by-mail or vote early in person now. Voters choosing to vote-by-mail should return their ballots using their town's drop box, per instructions from the Secretary of State.