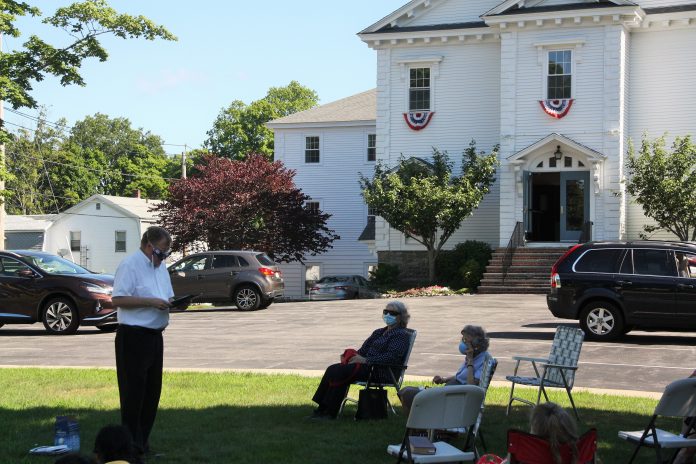 By Max Bowen-max.bowen@northstarreporter.com
On a warm, sunny July morning, the members of First Baptist Parish assembled on the lawn outside the church, sitting on lawn chairs or blankets for the first in-person service in over three months.
Needless to day, the mood was jovial on July 12 as parishioners greeted one another from a safe, social distance. Pastor Stephen Trimble said it was good to be holding services once again. A modified Easter service had been recorded and broadcast on North TV, but live-streamed or recorded sermons weren't possible. 
"It's very exciting," he said the Friday before the service. "I am looking forward to it immensely. It will be something new for us. People are excited."
People were encouraged to stay eight feet apart, and everyone wore a mask. The outdoor services will continue during the summer at 9 a.m., and will be canceled in the event of rain. Trimble described it as a "bare-bones approach to worship." No hymns will be sung, and there won't be a children's story or Sunday School. Offerings can be sent to the church, and Trimble said many have been generously continuing to give during the pandemic.
"We'll just sort of figure it out as time goes along," said Trimble.
Varney Stewart sings in the parish choir and has been a member of First Baptist for a year. He said that not going to church can leave one feeling their spirituality drain from them.
"My spirituality will be re-filled," he said.
Tanya Erban has been a lifelong member of First Baptist, and was married there. She hopes to bring her parents to a future service and said it was good to have the fellowship back in her life.
"It's really important for our church to be able to share the good word with the community," she said.
The service was brief, about half the time it normally runs. Following the ringing of the bell, Trimble opened with announcements and asked if people had concerns to pray for or joys to share. He shared a story about how a member of the parish came to the church to find a person sitting on the front steps, saying they were looking for a place to pray. The two talked, and the visitor left with thanks.
This led to the story in the Bible of how the apostle Peter brought a lame man to the portico of a temple to beg for alms. Peter had no money and told the man that he only had Jesus Christ to share. Peter held out his hands to the man and he was miraculously healed. He said that people often search for their own place of change, not realizing they are where they need to be.
"We're in the right place," said Trimble. "We're in our temple."
The service ended with a gift of purple petunias for each member. Trimble said that these are challenging times, but people are capable of great things.
"You and I are miracles," he said.
Bob and Thelma Lombardi have been going to First Baptist for the past 16 years and never missed a service. Thelma said it was good to see so many people at Sunday's service and supporting the church.
"It's good to see everyone again," said Thelma.
In the weeks that followed the lockdown, Trimble stayed in contact with the parish via phone calls and e-mailed sermons. Lynn Ouellette said she has kept all the sermons, and said that being at the service was also the first time she has been able to see her sister face-to-face.
"We're very happy," she said. "I almost cried when the bell rang."