By Max Bowen-max.bowen@northstarreporter.com
How many police cars show up when you get pulled over?
It's a question that Jonas Piere asked the more than 50 people who attended Sunday's vigil for Black Lives Matter. Piere said he has dealt with the police being called for him while he leaves his job at Barrett's Ale House, and recalled another time the police while he was in a Mansfield parking lot eating pizza in his car.
"You tell the police to leave me alone," said Piere. "I encourage you to listen to what I'm saying and not how I'm saying it."
The speakers at the vigil spoke about the need to reset our minds and encouraged people to get the ballot box and elect people who can effect change. Ashley Stewart of Attleboro helped organize a protest on Juneteenth, which commemorates emancipation from slavery in Texas on June 19 in 1865. She said there is a lot of racial discrimination in these communities, and that it's not spoken about, which is the problem.
"Silence is part of the violence," she said. "Stand with Black Lives Matter, it doesn't stop here. You need to have those uncomfortable conversations."
Iasha Hall said that racism is something that is taught, and that the time has come to reset our way of thinking. She encouraged those in attendance to learn more about one another and not judge.
"Your ancestors trusted my grandmother to educate your children, how can you not trust us now?" she said. "I don't care about the color of your skin, I care about how you treat me."
Ben Sigel—a candidate for the Massachusetts Fourth Congressional District—has been to many protests and marches in area towns. He believes police reform needs to happen, but that more is needed to address systemic racism. This includes protecting people's right to vote and electing diverse leaders who understandsthe needs of a community.
"If you can do that, you can get underneath it," he said.
Sunday"s event was the second to be held in North Attleborough, both organized by Jocelyn Jackson and Hannah Demarco. After a protest march on June 3, they met with the Town Council, Town Manager Michael Borg, and members of the police. She said this brings issues to light and can lead to more demonstrations. During the vigil, everyone took a knee for nine minutes of silence, the estimated time that a Minnesota police officer kneeled on the neck of George Floyd, which led to his death.
"It's not just one moment—it's a movement," said Jackson. "It needs to be a movement to get more people involved."
Jackson has been in touch with other organizers and discussed holding more events. She wants to work in photojournalism, bringing issues in third-world countries to light.
"I see subtle biases, and this needs to change," she said. "We've made sure we can make an impact."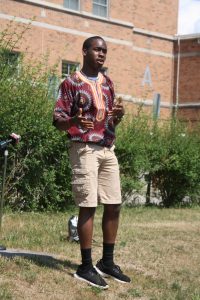 Sam Osa Agbontaen, a recent NAHS graduate, said he hadn't known about racism as a child. When he lived in Norwood, he recalled a neighbor who told his brother that by age 25, he would be in prison. He said that his brother will turn 25 soon and is thriving in his career. He's had other experiences, such as people crossing the street when he's walking toward them.
"People would tell me that if they didn't know me, they would be intimidated—I'm 150 pounds," he said.
Dakota Walker said that he will no longer ask for the respect and love that every human being deserves. With all the lives that have been lost, he said that the craziest thing is that some names are being forgotten. He told the audience that there will be a price to pay to make change.
"This is not something that can be started today and stopped tomorrow," said Walker. "This is an equation that we keep adding variables to."
The vigil drew a large crowd, including Andrea Briggs and John Copeland. Briggs said that she is shocked by the hatred that she sees in this country. She wants to see police reform, including body cams on at all times and officers be open to prosecution or lawsuits. Karole Nicholson was at the vigil to take the temperature of the community, and has been to others. She said that all sorts of voices need to be heard.
"Love matters more than hate," said Copeland. "And it always will."