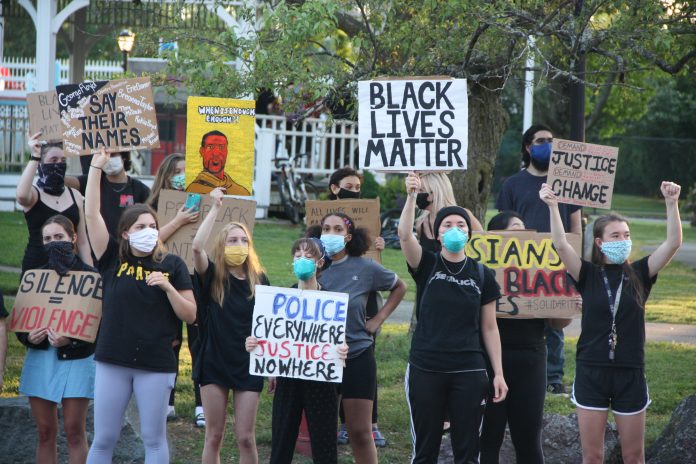 By Max Bowen-max.bowen@northstarreporter.com
Town Councilor Darius Gregory said in recent weeks, many asked him what they can do to help make a difference.
His answer—something.
This 'something' does not need to be vocal, he said. It can be a time of quiet reflection on one's own inner biases. If everyone can do this, he said, people can emerge from it and relish the notion of "one nation under God, indivisible, with liberty and justice for all."
"Make a stand and a commitment to be anti-racist," said Gregory at Wednesday's Town Council meeting.
A common retort at protests to support Black Lives Matter is that "All Lives Matter." Gregory recalled the recent fire on N. Washington Street, and how saying "All Lives Matter" is the same as saying "All Houses Matter" and to spray them all down instead of focusing on the one in need.
"Yes, your house matters too, but your house isn't on fire," he said.
Many on the council echoed this sentiment and spoke of those working to make a difference. Council President Keith Lapointe said that with everyone fighting to make their voices heard, the best thing to do now is listen. He said that he's been considering a hiatus from Facebook, where discussion on this has filled people's feeds. Lapointe said that some people are saying a lot without having a clue what they are talking about. He cited the irony that not a month ago the council was discussing a contract for the police patrolman's union, and now defunding or reforming law enforcement is on everyone's minds.
"Black Lives Matter doesn't mean police lives don't matter, it doesn't mean white lives don't matter," he said. "It's a cry for help for a specific population."
Recently a joint statement from Lapointe and Town Manager Michael Borg was posted to the town web site. In it, they wrote that the community is sickened by the death of George Floyd and "denounce the reprehensible actions of the Minneapolis officers who caused this unnecessary loss of life." The statement offers an unconditional commitment from the North Attleborough Police to the safety and well-being of everyone.

"We uphold that it is our solemn duty to oppose racism whenever and wherever we may find it," the statement reads. "We have an obligation to protect and value all people regardless of race, religion, color, gender, orientation, or creed. When we fail to protect one, we fail to protect all."
North Attleborough Police Chief John Reilly sent a letter which outlined anti-racism training which officers receive and how screenings of new officers are conducted to see if they have expressed racist views on social media and elsewhere. Complaints of discrimination are thoroughly investigated and that allegations of bias-based profiling are detrimental to the relationship between the police and the community and strike at the basic foundation of public trust.
"Please know that every one of your officers had the same reaction to the video as I did," wrote Reilly. "Simply stated, they were disgusted."
Councilor Michael Lennox said that what happened to George Floyd was murder and he hopes that justice is done. He watched the memorial service and saw the pain on the faces of the family, and heard them speak on the love in the household. He said that the conversation is happening and hopes that people can treat one another with fairness and decency. Lennox cited the work done by the North Attleborough Police in teaching officers de-escalation techniques and how they've been put into practice.
"It's these wake-up calls that are usually at the unfortunate cost of lives and family," said Lennox.
Councilor Justin Pare said that what happened to George Floyd shows how much further we have to go as a people and that racial injustice should be one of the goals. Councilor Adam Scanlon thanked those that had offered their support for the Black Lives Matter movement to Gregory for his strong leadership and the inspiration he has shown. He said the black community is facing many inequalities and that town government is working on some answers. Councilor Julie Boyce spoke on the need to end racism and find empathy, love, and justice for everyone.
"We can only go forward from here," said Scanlon. "I've heard a lot of questions and concerns. I'm really enlightened by the support that this movement is getting."
On June 3, two NAHS students led a peaceful protest on N. Washington Street and outside Town Hall. Councilor John Simmons said that he was proud of the group and the way they worked with the town and police.
"They made me really proud," he said of the protesters. "They are actively engaged, they are paying attention, they are informed and they're making long-overdue change."