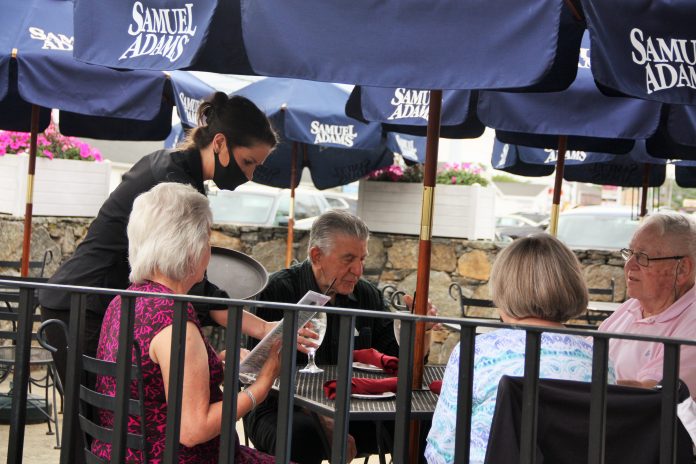 By Max Bowen-max.bowen@northstarreporter.com
Many of North Attleborough's businesses that were closed since the middle of March have finally begun to reopen.
With the state now in the second phase of the governor's four-part reopening plan, retail establishments can resume in-person operations, along with hotels, outdoor recreation, athletic fields, libraries, among others. Restaurants can offer outdoor dining where available. Many restrictions are in place, including the wearing of masks and social distancing.
It should be noted that reopening is not required and businesses can remain closed or conduct transactions virtually if they prefer. Phase 1 began on May 25 and allowed manufacturing, construction, houses of worship, hair salons, and barber shops to open, also with restrictions.
The downtown area
Susan Barbour, owner of The Dancers Drawer, excitedly greeted a customer on Wednesday, June 10, her first day with the doors opened since March 15. She said that a post to social media announcing the reopening received a great response and many others called or e-mailed her.
"It feels really normal," she said after opening. "Really good."
Open since 1985, The Dancers Drawer did a little online business during the closure. Barbour updated her displays with the holidays or changing of the seasons, which included going from winter to spring and St. Patrick's Day. She's hopeful that hers and other businesses will remain open.
"I'm a person of faith," said Barbour.
Down the street, Matt Slobogan was hard at work at The Preservation Framer, which he owns. For the past two months he's been doing designs via e-mail and phone calls and seeing customers on an appointment-only basis. He decided to do this after seeing similar stores still open, but doing little to keep crowd sizes down or allow for social distancing.
"It's working well for me," he said. "We'll keep doing it this way until things settle down."
The Preservation Framer also has a community space, which in the past has been used for yoga, art classes, town events, and a bridal shower. That space can't be utilized yet, and Slobogan hopes to host more events soon.
"We've done a lot in a year and a half," he said.
Derek Brooks opened Socks Etc. last September, and then the pandemic closed the doors. Since then he's been doing online orders, seeing in a week what he used to have in a day. But on Tuesday, the doors were opened and customers have returned. One of his first customers on Tuesday was happy to see the store and bought some socks for her husband.
"Three months is a long time," he said of the closure.
Striking Beauties offers outdoor classes
Gyms are among the businesses that will reopen in the third phase—slated to begin at the end of June—but Dena Paolino learned that outdoor lessons could be done if space allowed. So, she set up in the parking lot and has welcomed back both her Rocksteady and Striking Beauties classes. Masks are worn when social distancing isn't possible and equipment is wiped down if it needs to be shared.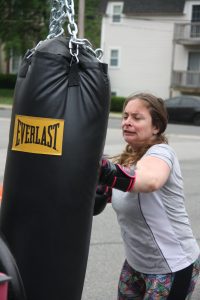 "It was great. We used to do outdoor classes a lot so getting it set up wasn't really difficult," she said. "It felt so good to see the girls again in person, to see real people."
Paolino began offering Zoom classes since March, which allowed the trainers teach one or two each. The Rocksteady classes saw around 20 participants, and she was surprised when no memberships were canceled. She may continue the online lessons after they can fully reopen.
"I think it's amazing how it went," she said. "People really adapted. It's been an incredible experience."
Restaurants offer outdoor dining 
Leo Raneri, co-owner of Bella Sarno, opened up the patio on Tuesday and was happy to see a lot of reservations. During the closure, Bella Sarno switched over to a takeout service and saw some success with both regular and new customers.
"People are definitely looking to get out and socialize and get outside," said Raneri on Tuesday.
Staff wear masks and the tables have been moved to offer a six-foot space them. Paper menus are being used, and there are acrylic ones which are wiped down after use. Hours are 4-8 p.m. during the week, 4-9 p.m. on Friday and Saturday, and 3-7 p.m. on Sundays, which Raneri said is based on the expected volume of customers.
"It feels great," he said. "Just getting us back to some level of on-premise guest service is a good thing."
Several other area restaurants are now offering outdoor dining, including Stone Ridge Grill and Bar and Box Seats, among others.
In Bellingham, Coachman's Lodge opened up its outdoor dining area on Monday and saw a great response, with people going that day and making reservations for the weekend. Brenda Scannell, head of marketing, said it has been a great having people back.
"Everyone has been very cooperative and it's been a very positive experience," she said. "It's great, we're all very excited."
When Coachman's first re-opened its outdoor dining, 18 tables were available, but they plan to expand to around 30 over the weekend. All tables have been moved to more than six feet apart, and menus are printed on paper or can be accessed via a QR code. Linens are changed with each customer and staff are frequently washing their hands and all surfaces. Reservations need to be made ahead of time on the web site. Takeout is still available.
Mad Moose Saloom owner Ceil Weeman doesn't have an established outdoor dining area, though work is being done to change this. She plans to have six tables—two in front and four in back—which will be fenced in and placed to allow for social distancing. Some of the tables are large wooden spools used for electrical wire, re-purposed for this change to the business.
"An outdoor section is always a plus," she said. "I think people are going to love it."