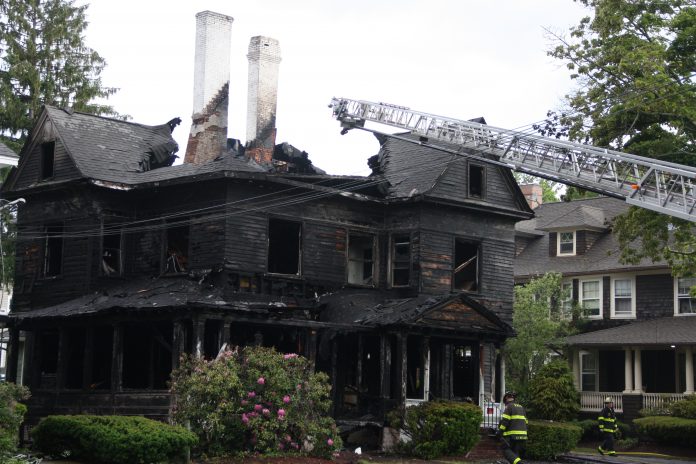 By Max Bowen-max.bowen@northstarreporter.com
A home at 174 N. Washington St. was destroyed by a fire that saw response from North Attleborough and several area fire departments.
The fire, which reached three alarms, was reported at 3:30 this morning. Fire Chief Christopher Coleman said responding units encountered heavy fire on the front porch and second floor, as well as the exterior of the adjacent house at 170 N. Washington. Fire crews were still at the scene at 7 a.m., clearing the area and assessing the damage. Because of the severity of the fire, mutual aid from Plainville, Attleboro, Mansfield, Foxboro, Wrentham, Seekonk, Cumberland, and Pawtucket was requested.
"Raynham and Rehoboth covered the town for us while we operated that fire," said Coleman.
The chief said that the standard response for a house fire is 17 personnel, and since two homes were ablaze, it was treated as two separate incidents.
"We had significant manpower," said Coleman. "If not for that, we could easily have lost a couple more homes."
According to real estate records, the home was built in 1900 and being used by the Association for Sober Living, which helps its residents develop the sobriety skills needed to maintain a long-term drug free lifestyle.
A former resident of the home posted a GoFundMe page at 7 a.m., seeking donations to help those impacted by the fire. As of this time, nearly $1,300 has been raised with a goal of $15,000. On the page the former resident wrote that the home had saved their life and the lives of many others.
"This house has brought many broken men from rock bottom to strong, loving and honorable men today," they wrote. "This house was full of many men trying to achieve the same. Everyone made it out safe but lost everything but what they had on."