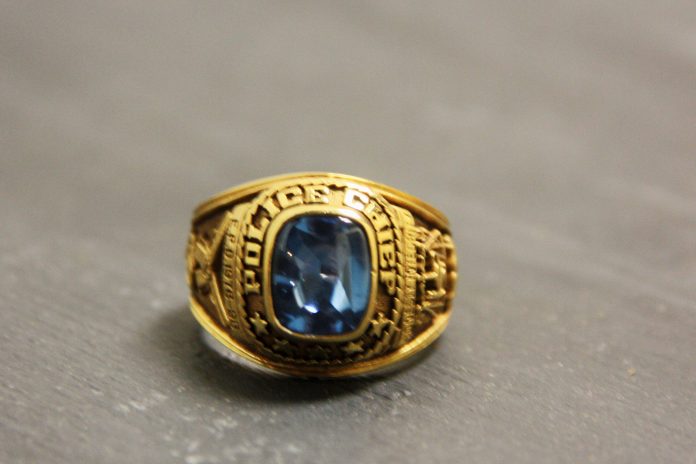 By Max Bowen-max.bowen@northstarreporter.com
Sometimes you just know it's meant to be.
That's how Kelly Lendall saw it when she was tearing down a wall on May 6 at the site that will soon become Working Man Distillers and discovered a small pile of jewels and rings. On the wall she had written the message "Breaking ground our future starts here. Bust thru obstacles here we come!" and it was there that she found this treasure.
"I was pretty surprised," said Kelly, who is working with her husband John to open the new business.
The building at 42 Commonwealth Ave. had been previously home to a jewelry manufacturer, and Kelly believes they may have been left their by a child as a joke. The rings appear to be customized, include one commemorating a marching band earning a championship title, and one made for a police chief with the dates 1976-1996 and E.P.D. etched onto the side. She also found a nearly empty bottle of Allen's Ginger Flavored Brandy, which is still in production today.
Kelly said she found the rings first and later the gems as she sifted through the wall. She's sent photos to a friend who works at Medway Jewelers to be evaluated, and if any can be sold, the proceeds will go back into the business. Those that cannot be sold will be kept and placed on display.
"What a cool thing," said Kelly of the find.
Work on the site began back in March and has continued since then. Kelly said this was the third site they looked at, after one in the Shaw's Plaza in North Attleborough and a second in Norton fell through. The interior will have a bar and seating area in the front room, plus a second bar area in the back near the bottling site. In one corner is a custom sign made by Modern Metal Design with a large wooden barrel on which sit some of the Working Man products, where people can get photos of themselves taken.
There's a lot of history contained within the walls of Working Man Distillers. The North Attleborough Fire Department has donated a number of historical items which will be on display and each month Lendalls plan to feature different professions. Kelly has an old wooden Emerson television frame which will be used to showcase their products. A wooden radio case will house a Bluetooth speaker from which Prohibition-era music will be played.
To help keep the public safe during the pandemic, the couple has used alcohol to make hand sanitizer and donated bottles to the Town Hall, fire and police departments, and area nursing homes. They plan to sell it in June, and with each bottle sold, one will be donated. A local brewery donated beer that wasn't being sold and from this, the Landalls can extract the alcohol and use it to make more hand sanitizer. Kelly said the money made from the sale of the bottles will be used to buy ingredients to make more.
"They've been amazing to work with," she said of the brewery.
The business will be a combination of a distillery and a tasting room, focusing on bourbon, whiskey, moonshine, and vodka. The bourbon will be sourced from other companies and then distilled and bottled at the North Attleborough location, while whiskey will be made on site. Whiskey will be finished for four years in 5-15 gallon wine barrels to give it a distinctive flavor.
Starting this new business has involved a lot of education and John read a biography on George Washington and learned that he had run a distillery, which he found interesting. He went to distilleries in Boston, Baltimore, Sagamore, and more to pick the brains of the people who worked there. The Lendalls hope to begin alcohol sales in late June, and once they can have customers in the store, will open up the seating area.
"It's going to be a warm feeling," she said of their opening day.
For more information, visit www.workingmandistillers.com.