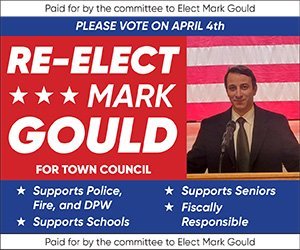 By Max Bowen-max.bowen@northstarreporter.com
In March, the town was faced with a difficult challenge—how hold a Memorial Day ceremony when the COVID-19 pandemic had forced any large events to be canceled.
Veterans Agent Rebecca Jennings said not holding a ceremony was never considered, and work began to see what else could be done. The result was a smaller event held on Saturday, May 23, with only a dozen vehicles, one float, and no one marching or making speeches. As the vehicles made their way down North Washington Street, a few people waved or saluted.
"It went remarkably well. We loved the support we got from the community," said Jennings. "When we started this whole process, we were unsure of how [it would be done]."
The ceremony began on Park Street and ended at Mount Hope Cemetery. Members of the DAV, State Rep. Betty Poirier and others took part, all wearing face masks and respecting social distancing. Three wreath-layings were held at the town's memorials to those in the Armed Forces who made the ultimate sacrifice, and flags were placed on veterans' graves. Jennings said North Attleborough was one of the few towns that held a ceremony, while others opted for a virtual event that was recorded and posted to the local cable access channel.
"In North Attleborough we're very patriotic," said Jennings. "We couldn't let Memorial Day go by without honoring the fallen."