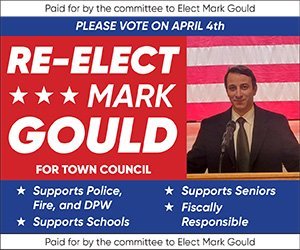 By Max Bowen-max.bowen@northstarreporter.com
Among the many charitable efforts of the Daniel J. Hollis Foundation is one that seeks to encourage creativity at a young age.
Daniel Hollis' creative side was something that took off during his time at Emerson College, though his family said that he wished he had started sooner. To that end, the foundation recently held an Express Yourself Challenge to support the young in their creative endeavors. Those who participated were asked to send a photo or video of their artistic work. According to Kate Hollis Vice President of Community Service and Charitable Events and Jennifer Kelly, the foundation's president. This year's winner was Sophie Silveria, a student from North Attleborough Middle School, who chose NAMS to be the recipient of a $1,500 Creative Arts Grant.
"It was one of his biggest regrets that he had not had the courage to explore those interests earlier," they wrote.
The Daniel J. Hollis Foundation was started in memory of Daniel Hollis, son of Jennifer Kelley, the principal of the Martin School in North Attleborough. Daniel died at the age of 19 on Oct. 2, 2019. Kate and Jennifer wrote that the outpouring of support that the family received was tremendous, and they were told countless stories about his impact on others. When it became clear that Daniel would not recover from his injuries, the family wanted to find a way to ensure that his positive legacy would continue.
"We believe Dan lived his life to the fullest and was defined by the relationships he cultivated (his community), his love of sports (competition), and his passion to experience new things (curiosity)," wrote Kate and Jennifer. "The foundation was formed on the guiding principles of community, competition, and curiosity."
The foundation was officially incorporated in January 2020. The Board of Directors include Jennifer Kelly (Dan's mom), Kate Hollis (Dan's sister), and Taylor Kelly (Dan's cousin). Dan's father, Jason Hollis, heads the golf tournament planning and is assisted by Dan's uncle, John Kelly. They are supported by family members and Dan's many friends in the community.
"We have had a very positive response from the many communities associated with Dan and our family," wrote Kate and Jennifer. "The support has been amazing. We want to give back to the communities that Dan cared for, but also expand into new territories. We hope over time we will be able to positively impact the lives of young people from a larger area."
Some of the future events include a golf tournament on Aug. 10 at the Blissful Meadow Golf Club in Uxbridge. The foundation has also partnered with the Mike Weaver Helping Friends Forever Foundation, Inc. in raising awareness for heart health and healthy competition. Jamie Gornstein Tighe—a family friend of the Kelly-Hollis and Weaver families—is running the 2020 Boston Marathon for both foundations.
Due to the COVID-19 crisis, several events had to be postponed or canceled. Emerson College Men's Lacrosse had planned on holding a fundraiser and Organ Donor Registration at their first home game. Oliver Ames High School had collaborated with Hopedale High to hold a game under the lights where all proceeds would be donated to the foundation. Hopedale High School Lacrosse also had several events planned to honor Dan's memory.
Some future events include the Acts of Kindness Challenge every March to celebrate Dan's birthday, the Express Yourself Challenge, the Outstanding Teammate Award and Scholarship to a graduating senior of Hopedale High School and various grants to support the foundation's mission. The foundation has granted funds to secure a service dog for a young person living with autism and donated to secure two-week-long admissions to summer camp at the Hockomock YMCA for students in need.
To learn more about the Foundation, visit www.danieljhollisfoundation.org or check out the accounts on Twitter, Facebook, and Instagram.