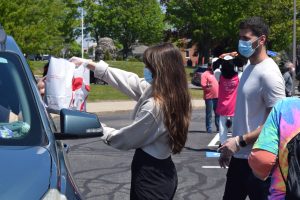 By Max Bowen-max.bowen@northstarreporter.com
Volunteers and staff at the Hockomock YMCA were surprised when New England Patriots quarterback Jarrett Stidham and his wife Kennedy arrived last Friday to donate meals to those in need.
For weeks, the YMCA has handed out meals and Hockomock YMCA President Ed Hurley said more than 63,000 have been given to families in North Attleborough, Milford, and Bellingham. He said the Stidhams wanted to help out and heard of the work being done at the YMCA. He said the visit was not planned and that the Stidhams didn't want it to be about them.
"The big thing for both of them was they wanted it to be about the kids," said Hurley.
Jarrett and Kennedy spent the day handing out the regular meals and donated 1,000 more from Chick-fil-A. Hurley said people were excited when they recognized Jarrett, especially the children. In addition to this act of charity, the couple also gave out meals to a childcare facility for first responders set up at the Kraft Center.
"We go back with a lot of the players," said Hurley of the YMCA. "We get to watch them on Sundays, then when you get to know them and they get involved, it just shows what kind of people they are."