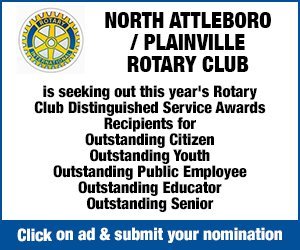 By Max Bowen-max.bowen@northstarreporter.com
Last Friday may have been Frank Caron's official last day, but don't be surprised if you see his friendly wave in the fall.
Since 1987, Caron has worked at the North Schools as a custodian, beginning on the night shift at North Attleborough High School on Feb. 27, 1985. Eight years later he went to the Falls School and since 2000has been at the Early Learning Center [ELC], waving to the students as they head home.
Friday, April 24, was Caron's last day on the job, but with the schools closed during the COVID-19 pandemic, a typical retirement party wasn't possible. Principal Traci Vaughan had heard from several people who wanted to give Caron a send-off, and so she worked with the PTO President to make the arrangements. At around 11 p.m. the night before, the plans were finalized and sent to the parents. Caron didn't know about this and said he was amazed at their generosity.
"I've been here 20 years and I've been friends with everyone," he said after the big celebration.
One of the jobs Caron does is to stand outside the door leading from the gym and direct traffic going through the back parking lot after morning drop-off. So on Friday, Caron took his usual place. Several vehicles drove by, the drivers waving and honking their horns, many with signs wishing Caron a happy retirement. A few stopped to give gifts of donuts or cards.
"We're going to miss him," said Vaughan. "He does his job, gets to know every single child. He knows them all by name."
In fact, Vaughan said that Caron often goes above and beyond his role to help the school. Directing the cars is something he took it upon himself to do, and it's helped to streamline the traffic flow in the morning. Caron said loves his job and has worked with four different principals while at the ELC, and all have been the "salt of the Earth." In recent weeks he's been working with the new custodian and thinks they'll do a fine job. Caron expects to return in the fall to say a proper farewell to the students and plans to be on the sub list to help out when needed.
When asked what kept him at the Early Learning Center for 20 years, Caron's response was immediate and heartfelt.
"The people in it," he said. "It's a special place. It just grows on you."