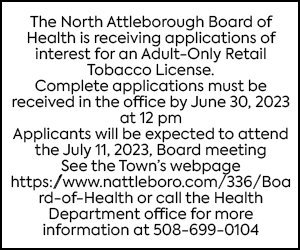 By Max Bowen-max.bowen@northstarreporter.com
Well, this certainly isn't the anniversary I had in mind, but I'm going to make the most of it.
It was one year ago today that the North Star Reporter launched its inaugural edition. It was such a rush to hold that first copy in my hands and see the fruits of our hard work. I've worked as a reporter since 2003 and when I left my last job, I genuinely thought that was it—no more reporting, no more articles, time to hang it up and find something new. Newspapers are facing challenges like never before and finding a job in that field has become difficult, if not impossible.
Then, I got the call from Jeff Andrade, the NSR's publisher and a man I will someday build a statue of. His message was "You don't know me, but I'd like to talk to you about a newspaper I'm starting." We met in March 2019, and it was clear how passionate he is about local news and his desire to give North Attleborough a community paper, something it has lost in recent years. I've always loved working in community journalism—you get to connect with a town in a very unique way. You're there for the good times and the bad, the big stories and the smaller ones. You get to meet so many great people and form connections that can last a lifetime.
Such has been the last year working in North Attleborough. I'd list all the people I've met, but then this would be a 40-page column, and you don't have all day. In just the last 12 months I've made some amazing memories that I will always carry with me. Meeting the many business owners in the downtown area. Attending the last Town Meeting and chronicling the new Town Council. Going to the schools to speak to students on everything from their after-school programs to taking part in a national pageant. Interviewing doctors, politicians, musicians, entrepreneurs, police officers, firefighters, volunteers, teachers, the list goes on and on. It's been such a great ride and I sincerely hope it never ends.
Thinking back to when we first opened, it was certainly a hectic, but exciting time. We've all worked for news organizations, but those were larger companies, and while our roles were significant, they were one of many. This was something entirely new, something which we were solely responsible for. The North Star Reporter would rise or fall based on our actions, and there were times that things got stressful. However, the good times always outweighed the bad, and I look back on the months of hard work and think, "Yes, it was worth it."
It would be a huge disservice to not offer some praise to the team behind the paper. Along with Jeff, there are Leslie Deschenes, Nancy Gaston, Mary Dulude, and Doug Iavarone, our advertising stars. They've kept the paper filled with great local businesses, the lifeblood of the paper, and so many thanks go to those who have advertised and supported us. Joel Kitts is our layout guru, and the work he does assembling the stories, ads, and photos is second to none. Huge thanks go out to TCI Press, who have been with us since day one and kept the paper printed on time for the last year. The U.S. Postal Service deserves credit as well. After all, they're the ones who get the paper out each week and we couldn't have had the same impact without them. And more recently, our North Attleborough High School student interns—Catherine Hanewich, Aidan Judge, and Rachael McKenna. They have done astounding work and are among the best writers and photographers that I have ever worked with.
As I said at the outset of this column, this isn't quite the way I had intended to celebrate our one-year milestone. Back in March we made the tough call to suspend print, and that will continue for the near future. But we keep moving forward to share the news with the town, from updates of the current crisis' impacts to more heartfelt stories aimed at lifting spirits. We've received a lot of positive comments, which tells us that we've made a difference and continue to do so.
It's all we've ever wanted.