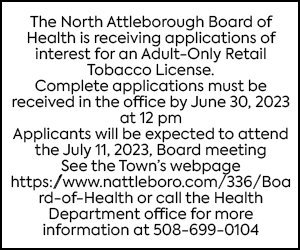 By Max Bowen-max.bowen@northstarreporter.com
A 36-year-old North Attleborough man arrested on domestic violence-related charges last week while already out on bail on a previous domestic assault case was found dangerous and ordered held without bail for 120 days.
Bristol County District Attorney Thomas Quinn III announced that Michael Berlo was arrested at the North Attleborough apartment he shares with the victim shortly before 3 p.m. on April 12. Police responded to the apartment after receiving multiple 911 calls from neighbors about an ongoing domestic assault. Police observed Berlo allegedly moving aggressively towards the victim through a glass door to the apartment, and that the victim appeared visibly distraught. The victim told police that the defendant had just allegedly struck her in the face.
The victim reported to police that she and the defendant had been arguing and that he was mad at her for not giving him a ride home from his friend's house the night before. The victim told police she then went outside on the porch to speak with a neighbor, but Berlo followed her outside and was screaming at her. The victim said he dumped the contents of her purse out onto the steps in an attempt to start a fight. When the victim attempted to stop him, Berlo is alleged to have shoved her to the ground. The victim told police she then collected some belongings and her daughter, at which point he allegedly slapped her on the side of her forehead, which caused her to fall to the ground. Berlo was charged with a single count of assault and battery on a family or household member.
At the time of his arrest, Berlo was free on bail awaiting trial on a pending case where he is charged with assault and battery on a family or household member and assault and battery on a pregnant victim. The dangerousness hearing was prosecuted by Assistant District Attorney Kendal Poirierand the dangerousness finding was ordered by Judge Michele Armour.
"I am pleased that the court found the defendant to be a danger to the victim and held him without bail. He was already released for assaulting the same victim and is also on probation for other cases," Quinn said. "The defendant clearly does not belong out on the street and should remain in custody until all of his cases are resolved."