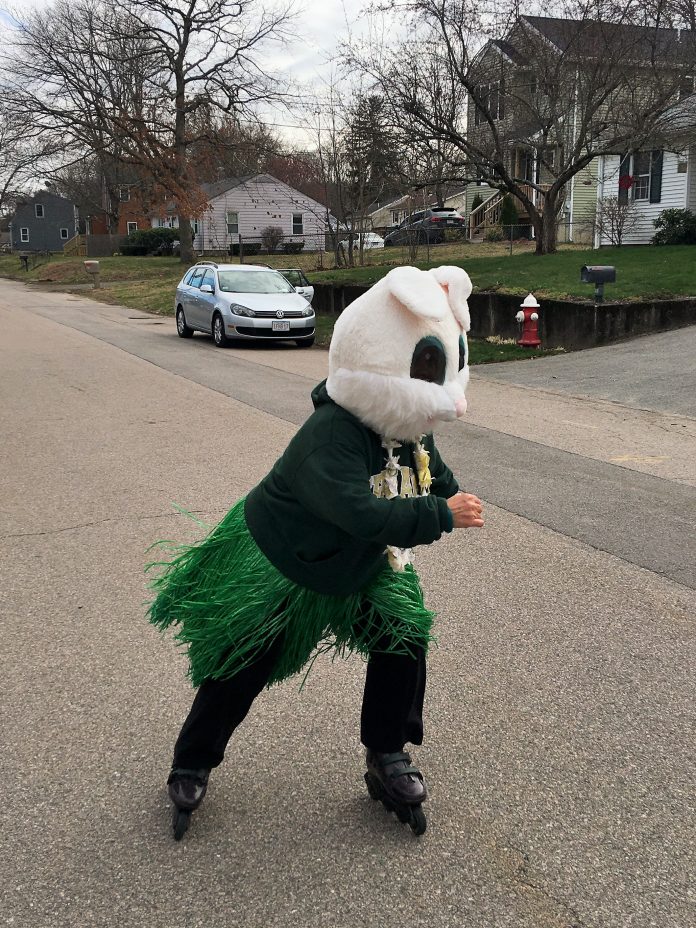 By Max Bowen-max.bowen@northstarreporter.com
Easter has come a little early to North Attleborough.
Knowing what a trying time it is in the world amidst the COVID—19 pandemic, Noelani Kaluhiokalani Miranda wanted to do something to bring a little happiness to everyone's day. With Easter right around the corner and everyone staying home, she decided to don her bunny mask, a grass skirt, and roller skates and head out to her friends, students and neighbors. She skates outside the homes or in her own neighborhood, while her son Kainoa records the visits for posting to Facebook and YouTube.
"I felt I could make videos for my colleagues and students and spread cheer to my neighborhood," said Kaluhiokalani Miranda, who teaches pre-kindergarten at the Garelick Farms Early Learning Center and hula dancing at Aloha Maluawai Hula.
Kaluhiokalani Miranda has been making appearances in North Attleborough and surrounding towns for the past two weeks and plans to continue doing so after Easter. When she's out she maintains social distancing and thoroughly cleans her costume. She often wears shirts from her alma maters, Bridgewater State and Endicott College.
"I've seen some of my son's friends," she said. "It's nice to see them and say hi for him."
Kaluhiokalani Miranda said people have been excited to see her and she's really enjoyed visiting different spots around town. She wants to do what she can to support everyone who's going through these difficult times, particularly the first responders, teachers and business owners. She said it's important for the town to support one another.
'If I can get them to have a glimmer of happiness, then that's good," she said.
If you'd like to see the Easter Bunny skate by your neighborhood, reach out to Noelani Kaluhiokalani Miranda on her Facebook page.