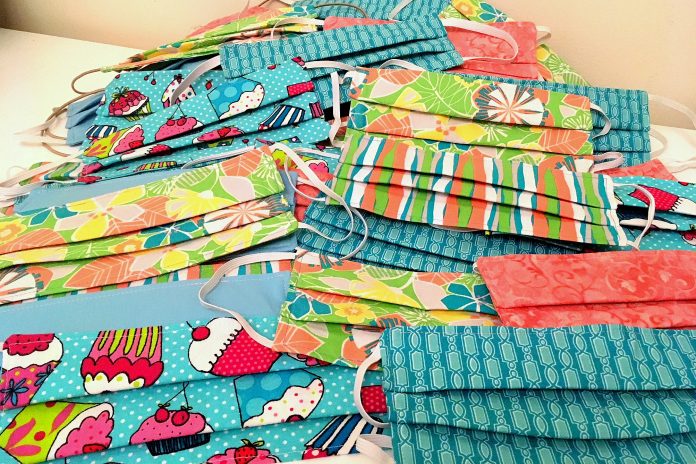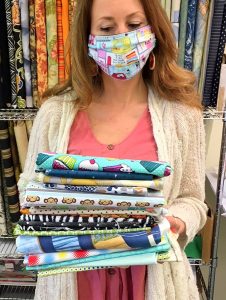 By Max Bowen-max.bowen@northstarreporter.com
The crafters at The Creative Sewing Studio are putting their skills to use making  masks for area hospitals and medical workers.
Mikala Cash, owner of the studio, said that around 50 percent of the studio's students either work in the medical field or know someone who does. After Gov. Charlie Baker ordered all non-essential businesses to close to help slow the spread of the Coronavirus, Cash said people were asking about making masks, so she, her husband, three employees, and eight students go to work.
"We got more calls and more emails," said Cash. "We realized there was a need in the community."
Ten people are making masks, with two more delivering them to eight locations in Massachusetts and Providence, including Madonna Manor, Branches at North Attleboro, Kent County Hospital in Warwick, and St. Elizabeth's Home in Providence. Many people have made donations of materials, but Cash said that moving forward, they're placing orders so as to minimize the chance of infection. She's also connected with Anthony L. Sanders Sr. of AWoken Apparel in Providence, who is also making masks.
Cash added that she and the volunteers are still very busy—Cash herself begins working at 5:30 a.m. and goes as late as 9:30 p.m. This includes washing the fabrics, making the masks, and delivering them.
Cash said that the masks have a fairly basic design, and there are many tutorials available online. Quilter's cotton is used, and after being washed and dried, tightens to fit. The masks won't prevent against infection, but do help contain water droplets if folks were to sneeze or cough by containing them within the mask. Cash has also set up a donation page on the store's web site that helps purchase supplies or pay those who are out of work and making the masks.
Below are the locations The Creative Sewing Studio is working with:
Madonna Manor, North Attelborough,

Branches, North Attleborough,

Kent County Hospital, Warwick, R.I.

Providence VA Medical Center, Providence, R.I.

St. Elizabeth Home, Providence R.I.

Summit Commons Nursing Home, Providence R.I.

Charles Gate Nursing Home, R.I.

East Bay Community Health Center, R.I.