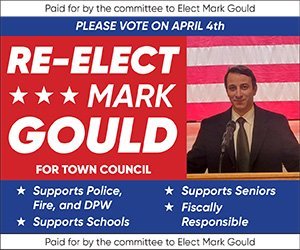 By Max Bowen
max.bowen@northstarreporter.com
A visit from the fire department can sometimes be a scary situation, particularly for children.
To help them understand these situations a little better, Firefighter/Paramedic Matthew Conley of the North Attleborough Fire Department talked about the equipment he uses during a presentation at the Richards Memorial Library on Saturday, Feb. 29.
Conley wore his turnout gear, breathing apparatus and fire helmet, and showed the audience how each piece of equipment works. He explained that when the department responds to a medical emergency—the majority of their calls—children may see a number of fire or medial personnel in the home, which can be stressful at times.
"We're here to help you," he said.
Conley said if kids are in the car with their parents and there is an accident, they'll usually see a firefighter in their full turnout gear approach the vehicle. When they're wearing their masks and helmets, he understands that it can sometimes be scary for the children.
"We may look different and sound different," he said. "But there's nothing to be scared of."