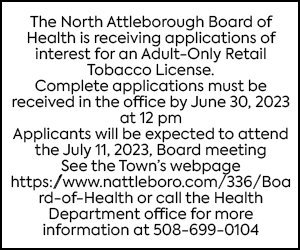 By Max Bowen
max.bowen@northstarreporter.com
From devoted youth to dedicated law enforcement, this year's Distinguished Service Award recipients have helped North Attleborough in a number of ways.
The awards, given out by the North Attleborough/Plainville Rotary Club, focus on five categories—Outstanding Citizen, Youth, Public Employee, Educator, and Senior. The ceremony will be held on March 23 at the Heather Hill Country Club. Around 20 people were nominated for the awards.
In the Outstanding Youth category, North Attleborough High School Student Lily Blank was chosen as the recipient. Those who nominated Blank cited her work in the Best Pals, North Serves, and Project 351 programs. She was recently selected as the youngest board member for the nonprofit being formed to expand the Fuel for the Weekend Program.
"She is the type of individual we need more of in this ever-changing world," wrote one those who nominated Blank.
North Attleborough Police Officer Craig Chapman will receive the Outstanding Public Employee Award. In one of the nomination letters, Chapman's numerous commitments were listed, including three tours in the Army Massachusetts National Guard. He retired in 2015 as a sergeant major with 28 years of service. He also volunteers with New Englanders Helping Our Veterans and the Specialist Matthew Pollini Fund, aiding active military, veterans, and public safety personnel.
"He has served our country with pride and distinction, he continues to serve our communities, military, and law enforcement to this very day with the same pride, distinction, and unwavering commitment," said one of Chapman's supporters.
"Going above and beyond," is one of the reasons for which Jacquelyn Stanley is receiving the Outstanding Senior Award. She has arranged car rides for seniors who have no one to drive them to the doctor or hospital and delivers prescriptions to seniors' homes. Working as a pharmacist at the Plainville Prescription Center, she often lets small business owners sell their products there.
Karyn Picard received a number of nominations for Outstanding Educator from students, co-workers, and parents. One student said Picard makes learning fun by creating songs to help teach nouns, adverbs, and adjectives. Another student said Picard helps encourage them to take on the challenging lessons.
"Even when I feel like I can't do it, you encourage me to do it," wrote the student.
Sarah Stone—recipient of the Outstanding Citizen Award—is well known for her work with the Community Comets Food Pantry, which helps families in North Attleborough. One of those to nominate Stone highlighted her work at the Early Learning Center as PTO President and later at the Community School, where the food pantry was launched in early 2019.
"Sarah has organized numerous fundraisers at various businesses and also at the other schools within town to help stock the pantry," said a resident who nominated Stone. "What at first started as a project to help fill the gap of food insecurity for a small number of students has grown 10 times that."