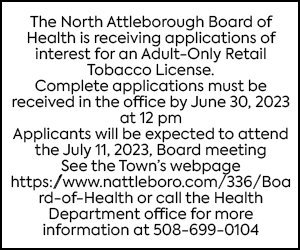 From Feb. 7-14 the North Attleborough Fire Department was requested to 76 calls for emergency services.
Forty four of these were medical in nature with 31 requiring Advanced Life Support measures being taken. Four were for motor vehicle collisions.
The remaining calls were due to a variety of other reasons including arcing wires, smoke investigations, and hazardous materials evaluations.
NAFD crews were utilized in mutual aid responses in area communities. An engine company was dispatched to Attleboro for several hours on the ninth to assist with a structure fire and on Feb. 13 an ambulance responded to Franklin as part of an EMS task force resulting from a larger scale carbon monoxide event.
Smoke detector permits
The North Attleborough Fire Department has switched to an online permitting process for smoke detectors, burning permits and the standard FP-6 forms. Please go to www.nattleboro.com/fire for the link to access the online process. Please follow all the instructions and monitor emails for the progress of the permit submission.