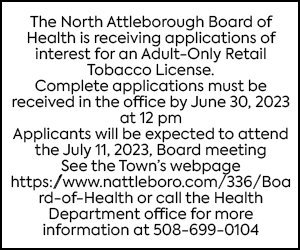 Below is an report from Hockomock Sports, recapping games from the past week involving North Attleborough teams, as well as Bishop Feehan. For more information, visit hockomocksports.com.
Have a game result that we didn't run? E-mail editor Max Bowen at max.bowen@northstarreporter.com. Photo submissions are also welcome.
Friday, Jan. 24
Boys Basketball—North Attleborough, 46 at Foxboro, 63
Girls Basketball—Foxboro, 61 at North Attleborough, 33
Boys Indoor Track—North Attleborough, 24 vs. Sharon, 76
Girls Indoor Track—North Attleboro, 48 vs. Sharon, 52
Saturday, Jan. 25
Framingham Quad (North Attleborough)–North Attleborough won against Needham (45-25) and Milton (55-12) but fell to the host Flyers (39-30).
Tuesday, Jan. 28
Boys Basketball—North Attleborough, 60 at Mansfield, 65
Girls Basketball—Mansfield, 58 at North Attleborough, 71
Wednesday, Jan. 29
Boys Hockey—North Attleborough, 1 at Canton, 5
Wrestling—North Attleborough, 19 at Sharon, 37
Thursday, Jan. 30
Boys Indoor Track—Foxboro, 34 vs. North Attleborough, 65
Girls Indoor Track—Foxboro, 25 vs. North Attleborough, 66
Friday, Jan. 31
Boys Basketball—Stoughton, 75 at North Attleborough, 66
Girls Basketball—North Attleborough, 49 at Stoughton, 48
Hockomock Boys Swim Championships, 2020 results
1. Franklin—296
2. Milford—267
3. Taunton—249
4. Sharon—232
5. King Philip—228
6. Canton—191
7. Oliver Ames—162
8. Mansfield—157.5
9. Attleboro—130.5
10. North Attleborough—107
11. Stoughton—39
12. Foxboro—31
Saturday, Feb. 1
Boys Kockey—Franklin, 3 at North Attleborough, 2
Wrestling—Franklin, 38 vs. North Attleboro,ugh 30, King Philip, 33 vs. North Attleborough, 46, and Taunton, 23 vs. North Attleborough, 39
Hockomock Girls Swim Championships
1. Oliver Ames—404
2. Franklin—293
3. King Philip—257
4. Canton—235
5. Sharon—189
6. Taunton—163
7. Milford—146
8. Attleboro—125
9. Foxboro—106
10. Mansfield—87
11. North Attleborough—53
12. Stoughton—42