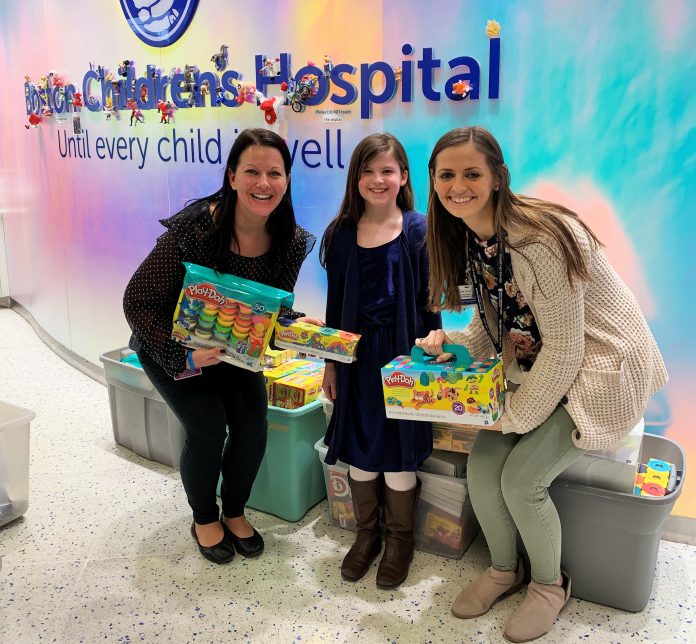 It all began with a book.
Amelia Mills, along with her sister Lucy, have brought back the annual Play Cray Read Away Drive to benefit Boston Children's Hospital. Reading a book from her school library years ago about a girl who was at the hospital inspired the effort. In the book, the child is being treated for cancer and has nothing to do to pass the time. Amelia thought of other children who were in the hospital.
"Just because they're in the hospital doesn't mean they can't have fun and be kids," she said.
The drive was for toys, initially, but after her first delivery to BCH, Amelia learned that the items needed the most are Play Doh, crayons, and book. These items cannot be shared with other patients once they've been used, due to the possibility of spreading germs. They also can't be washed, and so many of each are needed. So, she changed the focus and developed the Play Cray Read Away Drive.
"They go through a lot of these," said Amelia of the items collected.
Two years ago, the drive brought in approximately 900 items and last year, topped that with 1,000. Amelia said she hopes to bring in 1,500 this year. After the drive is complete, she will bring them to the hospital with her grandfather, and the staff are always happy to see her.
The drive will be run through Feb. 14, and items can be dropped off at Harmony Chiropractic, 25 Messenger St., Plainville, and Briggs Nursery, 295 Kelley Boulevard, North Attleborough. For more information, contact Molly Mills at mollyanne.mills@gmail.com.